Authorities confronted protesters as they marched across the Margaret Hunt Hill Bridge in Dallas Monday night, on the fourth day of protests in response to the death of George Floyd in Minneapolis police custody.
The march started with approximately 300 people at the Frank Crowley Courts Building, which falls outside parts of the city for which a 7 p.m. curfew applies.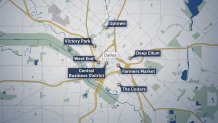 The group marched from the courthouse and headed towards the Margaret Hunt Hill Bridge.
Once on the bridge, they were met with a line of police, preventing them from moving forward. A second line of police then formed behind the group, essentially trapping the protesters in the center of the bridge.
At one point, NBC 5 crews witnessed a group of people, near the entrance of the bridge, start yelling at officers. Police then started shooting at the group of people with what's believed to be rubber bullets.
Local
The latest news from around North Texas.
Close to 200 protesters were detained and bussed back to the Frank Crowley Courthouse where, according to Dallas County Judge Clay Jenkins, they were allowed to leave.
Elsewhere, police said officers arrested three protesters outside Dallas police headquarters for violating the 7 p.m. curfew. DPD headquarters does fall within the designated area.
Protesters refused to move at 7 p.m. outside DPD headquarters, even as officers told them they were subject to arrest, according to NBC 5's Candance Sweat.
Dallas police Chief Renee Hall was spotted outside chatting with protesters after 7 p.m.
She wanted to address claims about her work when it comes to police oversight and accountability.
Hall announced the curfew Sunday, after which the city saw less than 100 arrests and a quieter night than it had Friday and Saturday.