What to Know
Three new aquatic centers were scheduled to be open in May, but remain unfinished.
Parks were paid for with $31 million made from the sale of Robertson Park in 2013.
Crawford Park is now scheduled to open Aug. 4, Fretz Park on Aug. 11 and Samuel Grand Park on Aug. 18.
Three new aquatic centers promised by this summer to Dallas residents with money from the sale of a park five years ago are still unfinished.
Voters approved the sale of Robertson Park on Lake Ray Hubbard to Rowlett in 2013 for $31 million.
The money was to pay most of the cost of the new regional aquatic centers at Samuel Grand Park in East Dallas, Crawford Park in Pleasant Grove and Fretz Park in North Dallas.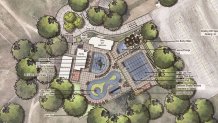 All three were scheduled for completion by May to be ready for the 2018 summer season, but none have been completed.
"I've been driving by every day wondering when they were going to finish it up," said Fretz Park neighbor Ian Miller. "I just figured Dallas put it off like they do everything else. The roads, every other thing."
Local
The latest news from around North Texas.
A long list of delays with construction labor and materials plagued the aquatic centers, according to park officials.
For instance, Fretz Park had history that was not widely known until work began to replace the smaller, old pool there.
"This used to be an orchard from the 40's up through the late 60's and orchards have chemicals that are used on those," Parks Department Aquatic Manager Trent Williams said.
That caused months of environmental remediation delay for removal of old soil before new work could begin.
At Samuel Grand Park, special stone is required for the project.
"And right now the stone that's supposed to be shipped in, it's sitting in a quarry in Arizona that's flooded. So, here we go again," Williams said.
Members of the Dallas City Council have lost patience over the delays. They gave park officials an earful at the June 27 meeting where the next round of aquatic center projects was up for approval.
"A whole season is gone and the dates are still slipping. And that is problematic," said Councilman Lee Kleinman, who represents the Fretz Park neighborhood. "We cannot except mediocrity in these programs."
The Pleasant Grove area around Crawford Park is represented by Councilman Rickey Callahan.
"I'm sure there's room for blame all the way around, but I want to get this fixed," Callahan said. "We've got to do better."
Councilmembers approved the next several projects that day with assurances from staff that procedures are in place to avoid future delays. Three more aquatic centers are planned.

Parks Department Director Willis Winters said Wednesday that the three aquatics centers currently under construction will be open in August and will stay open through September, past the normal Labor Day closing, for the season. The new projects will have no admission charge this year, he said.
Crawford is now scheduled to open Aug. 4, Fretz on Aug. 11 and Samuel Grand on Aug. 18.
Winters said the staggered openings are so workers can shift attention to finishing touches for each one.