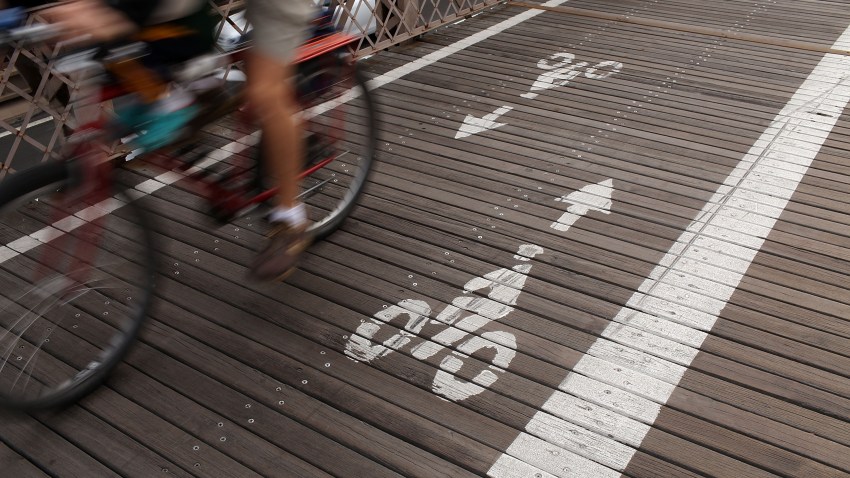 A couple of weeks ago, with a lot of work, the City Council of Fort Worth passed a new bike plan into its all-encompassing city plan. Not too long after, Dallas City Council followed Fort Worth's lead by announcing its start to research a new bike plan by calling for applicants for a Bike Committee Advisory Board (read more about that development here).

But don't expect to hop onto your bike in either city and have total accessibility over night. Both cities have a long way to go with both plans estimated to take around 20 to 30 years to fully be implemented.

President of the Lockheed Martin Recreation Association (LMRA) Bicycle Club Jim Wilson said we can tell how far behind DFW is from being bike-friendly by comparing our timeline plan to Austin's.

"Austin is now just working on their 10 year re-write plan," Wilson said. "We are a whole world behind Austin."

Before we start talking about what Dallas needs to improve for cycle accessibility, let's talk about what we have so far.

Back in 1985 Dallas went through with a bike plan, which put up signs for routes -- but there were no segregated facilities for bikes within the plan. This helped with hike and bike trails, but created no lanes on the street.

Also, the signs that were put up around Dallas were not the universal green bicycle road signs that motorists are used to seeing – they're a different color with the city logo on them.

Wilson believes these signs really don't benefit motorists or cyclists.

"Only local city riders can identify these signs for trails," Wilson said.
"If you are a motorists or not a regular city rider, then these signs defeat the purpose of keeping everyone informed. This is why Dallas needs the universal green bicycle road signs, so everyone can be knowable about sharing or routing the roads."

Currently Fort Worth doesn't have much bike accessibility either. In 1999, the North Central Texas Council of Governments (NCTCOG) planned out over 300 miles in routes. Wilson believes only about 45 of them were put in.

The current Fort Worth bike plan incorporates lanes, routes, policies, and bike parking. It provides room for all users, including bike lanes allowing enough room for the motorists.

President of Bike DFW Marc Mumby hopes Dallas can do the same.

"The new plan we are pushing would allow for more on-street cycle tracks, whether that means a physical separation between the bikers and the motorists, or just bike lanes on the street," Mumby said.

"The new plan is going to be all encompassing, but everything is still undecided. We hope there will be more connection of bike lanes with hike and bike trails, multi-mobile transportation -- which means lanes that connect to the trolley or the DART."

To clear up terminology for the non-riders, bike routes are signage that reminds motorists that bikers are sharing the road with motorists. Bike lanes have signs and have a stripe on the road, which gives an extra 14 feet of room for cyclists. A trail is set off the road, like hiking and walking trails.

Wilson said a couple of years ago the city looked at improving the streetcar system. By doing this, he believes the city was skipping a step and should have thought to improve the bike routes first.

"You have to understand that a bus or a train is not going to come to my house, but my bike will get me there," Wilson said. "If everyone has to drive to alternative transportation, then the city has come up short."

Wilson does believe that DFW has been moving in the right direction over the last six years. He doesn't think lanes need to start popping up everywhere, but that more routes need to be connected.

According to Wilson, it is up to the cyclist of the city to come forward to let the city know what needs to be done. Because if you are not a cyclist, you might just think the system is fine how it is.

Wilson said it's all a matter of communicating three things:
"1. The feeling of having a safe way to get places.
2. How you get there. Meaning, there is a route available to your destination or a route that can take you to your destination.
3. What you can do with your bike when you get there. There needs to be a safe place to park whether that be at your work building or on or at a multi-mobile transportation."

Local
The latest news from around North Texas.
"It's only a matter of asking. The plan needs awareness, needs money applied to it, and also needs to be done the right way the first time," Wilson said.