Video shows police officers in Little Elm using stun guns and chemical spray on students inside Little Elm High School Friday after being called to "calm things down" after an on-campus protest turned "disruptive."
Little Elm police said four students were arrested for assaulting police officers in the incident at Little Elm High School and could face charges. Police said one of the officers suffered an injury and has been hospitalized with unknown injuries.
Video recorded by students inside the school and obtained by NBC 5 shows an officer using a chemical spray on a student and then another officer using a stun gun when the student appears to lunge in the officer's direction. The video does not show the moments before the officer first used the chemical spray. After being hit by the stun gun, the student collapsed.
Other students, holding up phones and apparently recording video, drew closer as police tried to create a barrier between the growing crowd and the incapacitated student. Another officer is seen pushing his stun gun into the abdomen of a student trying to get him to back up before another officer shoves him in the shoulder.
That student said he, too, was shot with the stun gun.
"He pushes me away, he pulls out his Taser and pushes me with the Taser and he's like, 'Hey, you need to back off.' I'm like, 'He's not breathing, we need to do something about this.' And he ends up putting the Taser to my stomach, he Tases me, one of the other officers pushes me on the shoulder, he actually rips my shirt," said junior Kaden Throckmorton.
Local
The latest news from around North Texas.
Throckmorton told NBC 5 that it did get a little rowdy but that he thinks the action taken by the officers was unnecessary.
"I was just running off all of the adrenaline in my body. I knew that when he tased me my stomach tensed up," Throckmorton said. "I knew that what I was doing was for the better good and I was just scared. I was scared."
In another video, an officer is seen grabbing a female student by her hair and forcing her to the ground.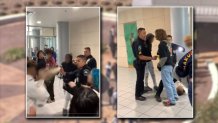 Police told NBC 5 they intervened when one group of students moved toward another group of students in an aggressive manner.
"I understand that they probably were overwhelmed, that's a lot of children, totally understand. But they also do training for this type of situation, most of them are probably parents and they have kids and know that it can get overwhelming and you don't, just, retaliate with violence," said mother Jessica Throckmorton. "Police need to ... realize these are children and they need to be treated differently than adults."
One mom, Anna De Luna, was at the school to drop off lunch for her son. She said when she walked into the school it was chaotic.
"There were students being arrested and manhandled on the floor. There were children crying and screaming, it was utter chaos. People were banging on the doors, police were pushing the children around," De Luna said. "It was utter shock."
According to a post on Facebook from the district, "Some students, who were participating in a planned student demonstration, caused a disruption at the school."
Social media posts indicate the protest was tied to a report of sexual assault involving a student that other students said wasn't being addressed by the district.
Both the school district and police, in a shared statement posted on social media Friday afternoon, said, "the demonstration was a result of a social media post the day before that contained inaccurate information regarding an incident that happened a month ago."
Officials did not go into detail about what information was and wasn't accurate.
The department said, as with any large incident, they will be internally reviewing the actions of their officers.
Still, the police response to the incident leaves questions for parents and other members of the community.
"The videos that I saw were very disturbing and I'm concerned to know what are the policies for this district," said Chaplain Crystal Bates, with DFW Metro NAACP.
The district later resumed a regular schedule before canceling all events Friday night. Events scheduled for Saturday were expected to go forward.