A chase that led police through three cities ended when authorities stopped pursuing a blue minivan, and finally arrested the driver when he stopped in the parking lot of Dallas 7-Eleven.
Police said the chase started in Garland when the driver, later identified as 47-year-old Stoffon Lorains Cooper, fled from a routine traffic stop around 3 p.m. Garland police pulled Cooper over for going 40 mph in a school zone.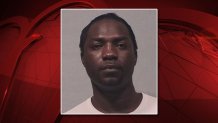 He stopped the van, got out and started to yell at the officer before he continued to flee, according to police.
Police said Cooper told the officer who pulled him over that he was "God."
Officers soon realized Cooper had traffic warrants, for which they attempted to arrest him. He proceeded to lead police through Dallas and Mesquite, as Dallas police and a Texas Department of Public Safety helicopter joined the pursuit.
Cooper's most daring maneuver, caught on video by Texas Sky Ranger, was to thread the vehicle through a car wash, turn around and drive right past police, over a curb and back onto the street.
Local
The latest news from around North Texas.
After a lengthy low-speed pursuit, police vehicles stopped giving chase, but the DPS helicopter continued to follow Cooper until he stopped in the parking lot of a 7-Eleven in the 5800 block of Abrams Road in Dallas.
Dallas officers arrested him at 4:05 p.m. and found a large machete-style knife strapped to his side.
Dallas police transferred custody of Cooper to Garland police, who transported him to the city jail where he is charged with the original traffic warrants and evading arrest.