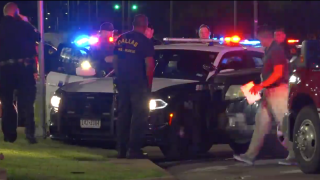 Dallas police officers had a close call on Wednesday night.
According to the Dallas Police Department, the officers were in their squad car when another driver ran a red light and crashed into the driver's side.
Police said the incident took place at the intersection of West Wheatland Road and the I-20 service road at approximately 11:15 p.m.
Neither of the officers was hurt, police said.
According to police, paramedics took the driver of the SUV to an area hospital.