Arlington police are investigating after an officer fatally shot a man they say drove his car toward an officer while attempting to evade arrest Wednesday afternoon.
At about 2:28 p.m., a witness called 911 to report seeing a man slumped over in his vehicle that was stopped in the middle of the road along Pioneer Parkway near Daniel Drive in Arlington.
Two Arlington officers responded and when they arrived, the Arlington Fire Department was already on the scene.
One of the officers tried speaking to the driver and asked him to stay where he was but the driver began traveling south on Daniel Drive.
The officers were able to pull the driver over near the intersection of Daniel Drive and Arkansas Lane where police attempted to arrest him for evading.
The driver drove away again and police began a pursuit to a cul-de-sac on the 1000 block of Carla Court, not far from the intersection of East Arkansas Lane and South Collins Street.
According to police, the driver made a U-turn in the cul-de-sac and began driving in the direction of one of the officers who had stopped, exited his vehicle, and was standing near his open door.
Local
The latest news from around North Texas.
As the driver moved the car toward the officer, the officer fired multiple shots at the SUV, hitting the driver, police said.
The second officer arrived about the time the shots were fired and both officers began to perform life-saving measures on the driver until paramedics arrived, according to police.
The driver, identified Thursday by the Tarrant County Medical Examiner's Office as 40-year-old Jesse Joseph Fischer, was transported to the hospital where he later died from his injuries.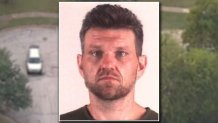 "The Arlington Police Department wants to get this right. We want to be thorough in our investigation and we will not rush this investigation. We will do what we need to do and we will do it properly," said Sergeant Chris Moore.
Neither of the officers was injured during the incident. Both of them have been placed on administrative leave.
The names of the officers involved have not been released but NBC 5 has learned that the officer who fired his weapon has been with the department for seven years and the other responding officer has been with the department for 14 years.
Two separate investigations are currently underway – a criminal investigation to determine whether any criminal offenses were committed during this incident and an administrative investigation to determine whether department policies were followed.