The man suspected of killing an 87-year-old woman Tuesday in her east Oak Cliff home turned himself in Sunday, Dallas police say.
Anita Daniels Thompson was found dead a day after police took a report that someone broke her window and tried to go into her home in the 4100 block of Fortune Lane.
Police said her cause of death was homicidal violence.
On Saturday, police identified 58-year-old Andre Stefan Buggs as the suspect in Thompson's death. Police said Thompson and Buggs knew each other but did not say how.
Buggs turned himself into Dallas police and was interviewed by detectives Sunday. He invoked his right to an attorney, police said.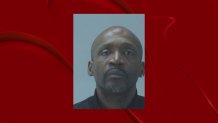 Authorities transported Buggs to the Dallas County Jail, where he was charged with murder, police said. His bond was not set Sunday afternoon.