Officers arrested a man Sunday in connection to a stabbing that killed a woman inside a Fort Worth home last week, police say.
Fort Worth police said they arrested Julian Garza in connection to the stabbing. He is being held on $150,000 bond.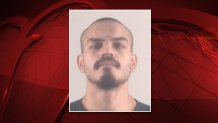 Fort Worth police spokesman Buddy Calzada said officers were responding to a cutting call when they found a woman dead from apparent stab wounds inside a home in the 1600 block of Beaumont Street.
Homicide detectives are continuing their investigation and interviewing witnesses, Calzada said.
No further information was immediately available.