Following two nights of protests, Dallas will be under a curfew starting Sunday night that will last for "several days," police Chief U. Renee Hall said.
Dallas Mayor Eric Johnson on Sunday issued a proclamation declaring a local state of disaster, giving the department authority to institute the curfew. The curfew will be in effect from 7 p.m. to 6 a.m.
Hall did not give an end date for the measure.
Sunday's curfew encompasses Deep Ellum, the Farmer's Market, the Cedars, Central Business District, downtown, the West End, Victory Park and Uptown — areas that Hall said were being targeted by vandals and looters.
The boundaries are Oak Lawn Avenue to the North, Riverfront Boulevard to the west, Corinth Street to the South and Peak Street to the East.
People who work or live in those areas should be prepared to show proof of residency or work credentials should they need to go in or out of the area while the curfew is in effect, according to police.
Local
The latest news from around North Texas.
"We are still in the midst of the COVID-19 pandemic and Dallas residents are safest at home and urged to continue exercising personal responsibility and practicing safe social distancing," the department said in a post to its blog, DPDBeat.
Police also encouraged businesses in the affected areas to close at 5 p.m.
Dallas County planned to close George Allen Courts and the County Administration Building on Monday. County offices in Founders Square and Renaissance Tower were also scheduled to close and only essential employees were expected to report to the Frank Crowley Courts Building.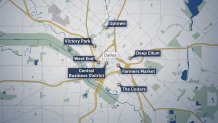 Hall said before the curfew could be put in place, officials had to coordinate an arrest processing location, transport, judges and magistrates, among other details.
Dallas joins a list of cities that have implemented curfews in light of the protests, including Minneapolis, Chicago, Los Angeles, Atlanta, Denver, Philadelphia, Pittsburgh and Seattle, according to NBC News.
Protests took place Friday and Saturday in Dallas in response to the death of George Floyd in Minneapolis, Minn. who died at the hands of law enforcement. The Dallas protests have at times turned violent and destructive.
"These rioters ... these looters, they have become extremely aggressive and our enforcement efforts have escalated. We will not tolerate any more damage to our city," Hall said. "Dallas is Texas's jewel and we need to make sure that we protect our city and that we protect the people who do intend to protest peacefully as well as the residents and business owners of this community."
In response to the curfew, Dallas Area Rapid Transit will suspend rail and bus service in the affected area between 7 p.m. and 6 a.m. The Dallas Streetcar will also be suspended, and the and the Trinity Railway Express will not operate between Medical/Market Center and EBJ Union stations.
Shuttle buses will be available for riders but will not stop at stations in the curfew area, according to DART.
Police also "strongly urged" residents and businesses not to take matters into their own hands and to call 911 if they see criminal mischief.
Denton, Highland Park, Irving and University Park all followed Dallas' lead and issued curfews of their own Sunday night.
The Dallas Police Department has worked with Irving and Allen police and about 500 troopers from the Texas Department of Public Safety in its response to the protests.
The troopers were part of a surge in resources from Gov. Greg Abbott who said Saturday that he was sending state resources to Dallas, Austin, Houston and San Antonio.
On Sunday, Abbott declared a State of Disaster for all counties, which allows him to designate federal agents to serve as Texas peace officers. He also said the FBI had deployed tactical teams to assist law enforcement, and that thousands more troopers had been sent to cities and more than 1,000 members of the Texas National Guard.
Between 120 and 150 National Guard officers are stationed in Grand Prairie, according to the police department.
The protests this week shifted from peaceful rallies against Floyd's death to destructive marches with injuries, buildings damaged, vehicles vandalized and stores looted.
Police have tried to stay steps ahead of the protesters and more aggressive groups.
On Saturday, NorthPark Center and the Galleria both closed at 2 p.m. and remained closed Sunday following reports that people were planning to gather outside in vehicles to protest.
"... This is no longer peaceful protesting. Where it started, we all agree that our hearts go out to the Floyd family but this is not what we're dealing with," Hall said.
The protest Friday began with a peaceful gathering outside Dallas police headquarters. But as the night went, the group splintered with some people trying to get on the freeway and others throwing bottles and bricks at officers and setting fire to scout cars, Hall said.
At that point, officers began using tear gas, she said.
Saturday's protest started in a similar way with a rally in front of Dallas City Hall. A crowd of about 700 people marched peacefully through downtown before returning to City Hall.
Later in the night, groups of people split up, with some walking on the highway and others looting businesses and destroying property.
In a video that has spread across social media, a man is seen being beaten and kicked by a group of people. Police said the man went to the 2200 block of North Lamar Street carrying a machete "allegedly to protect his neighborhood."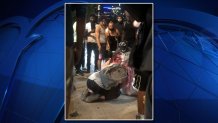 The man confronted the crowd and was assaulted. He was taken to a local hospital and was in stable condition, police said.
Dallas Fire-Rescue responded to 55 calls for service thought to be related to the demonstrations and took six people to local hospitals.
As of 10:45 p.m. Saturday, Dallas police said Saturday night that they had arrested 74 people, including 36 outside City Hall. An additional 27 were arrested on McKinney Avenue, 10 were arrested on freeways and one at the intersection of Elm and Ervay streets.
An additional 15 people accused of vandalizing buildings were taken into custody, and three guns and one stun gun were recovered.
No arrests have been made in connection with the attack, Hall said.
Hall said the people who have turned to looting and destruction during the otherwise peaceful marches are not protesters.
"We're talking about criminals," Hall said.
She said a large number of the people who have been arrested are not Dallas residents but have come from locations around North and West Texas and other areas.
"These individuals do not have the love, the respect for the city of Dallas that we have and we need to make sure that they learn the respect for our city," Hall said.