A Plano police officer in Dallas Thursday morning to serve a warrant shot an armed man after happening upon a car crash where he says the man refused to put the weapon down and pointed it in his direction.
According to a Dallas police statement, the plain-clothes Plano officer was driving by a crash at the intersection when he saw a man at the scene pulling a long rifle from the backseat of his car.
The Plano officer stopped his vehicle and confronted the man, identified himself as a police officer and commanded him to stop.
The armed man "continued to walk away and at some point turned and pointed his rifle toward the officer," the statement said.
That's when the Plano officer fired on the man, hitting him in the arm. The man then ran away but was captured a short time later after a homeowner told police they had seen a suspicious person.
The man was taken to a nearby hospital with injuries that were not life-threatening.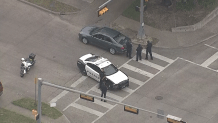 The Plano officer was in Dallas to serve a warrant, according to a Plano police statement. The officer has not been named and will be placed on administrative leave with pay.
The incident will be investigated by the Dallas Police Department's Special Investigations Unit.
The incident closed all lanes of Bonnie View Road at Tioga Street, where the shooting unfolded at about 7:15 a.m.