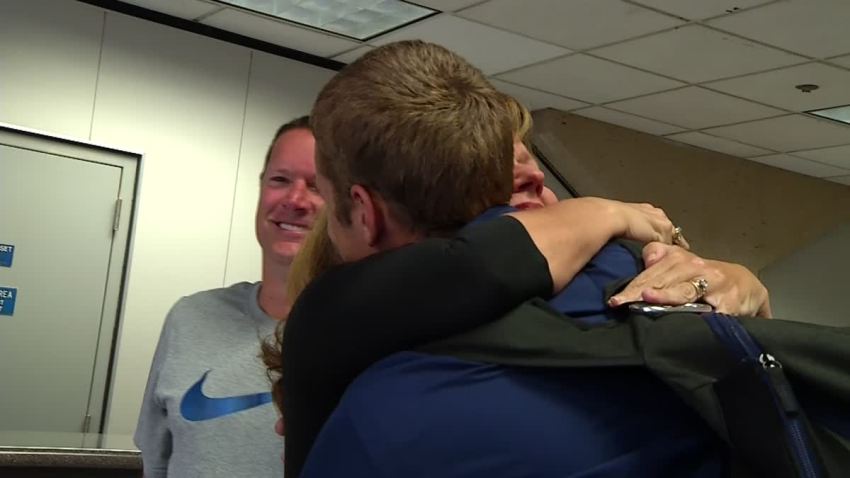 After days of being stranded in Baja California, Mexico, a Plano family was reunited at Dallas-Fort Worth International Airport Thursday.
Matt and Mitchell Hansen had traveled to La Paz in Mexico for a U18 USA Baseball tournament, only to be stuck on foreign soil when Hurricane Odile blew into town.
"When the hurricane happened, we saw the devastation immediately," said Matt Hansen, Mitchell's father. "But when all the cellphones and all the communications left, we couldn't even talk to people across town."
Local
The latest news from around North Texas.
Their flights were canceled; their hotel sustained storm damage, including flooding and broken windows.
Some estimate that thousands of American tourists were left stranded by the storm.
The Hansens and fellow teammates made the trek to a Mexican military area, where some were able to secure a military transport plane to Tijuana, Mexico. From there, they were bused across the U.S.- Mexico border, eventually making their way to the airport in Los Angeles.
Teammate Trenton Clark was also on the flight home to DFW Airport, but without his parents.
He said they urged him to get the first available seat back to Texas.
"It was hard to leave my parents," Clark said.
"You just prayed for the best — that's what you did. I had faith we were going to get back and we would all get back together."
Meantime, the team had secured the gold medal at the COPABE 18U Pan American Championship on Sunday.