Opioid abuse is no longer a problem that just doctors and pharmacists have to be proactive about, it is now spilling over into veterinary medicine.
In August, the Food and Drug Administration put out a warning about pet owners abusing drugs prescribed to their animals. There is also growing evidence they are intentionally hurting pets just to get prescriptions for drugs, according to a newly released perspectives paper, published in the American Journal of Public Health.
In the report, 13 percent of 189 veterinarians who completed an online survey in Colorado were "aware that an animal owner had intentionally made an animal ill, injured an animal or made an animal seem ill or injured to obtain opioid medications."
The FDA fears part of the crisis stems from a lack of opioids specifically designed for animals. In other words, pets get human prescriptions that are very attractive to drug addicts.
Local
The latest news from around North Texas.
Former drug addict Alicia Smith Arnold told us her relationship with substance abuse started at a very young age.
"I did alcohol starting when I was 12, cocaine starting at 12 years old. When I was 17, I was working at a topless club - that's when I started doing methamphetamines and cocaine and ... anything I could get my hands on just to escape reality," Arnold said.
Now, 25-years later, she's a drug counselor at Med Mark in Fort Worth. From her counseling chair she said she has heard unbelievable stories of addiction.
When NBC 5 asked her if she was surprised to hear that people would be so desperate as to take their animals drugs, she said, "absolutely not -- I actually did the same thing."
Smith Arnold said it was eight years ago, when she was 37 years old. The mother of four had a bulging disc in her back so she would often drive from doctor to doctor to get multiple opioid prescriptions.
Then one day she took her dog to the vet.
"I had a pet that was having seizures and so the doctor prescribed him something, and I don't remember what it was, but I took one of the pills and a friend of mine took one of the pills. Even though that medication maybe lower milligrams, all you have to do is mix it with other medications."
At Heal Veterinary Hospital and Pet Rehabilitation in Dallas, all controlled substances are double-locked in a cabinet and routinely logged. Medical Director Dr. Brittney Barton said these are standard security measures at any vet. Regardless, she said break-ins are a well-known problem.
"This is actually a big reason why a lot of veterinarians don't get a DEA license and don't keep any level of controlled drugs on the premises," said Barton.
While vets typically don't prescribe some of the most commonly abused opioids like Oxycodone and Fentanyl, they do write human prescriptions for pets for other well-known drugs like Hydrocodone, Xanax, Tramadol and Valium.
While Barton prefers acupuncture and lasers for pain management, she said opioids are administered in her practice before a procedure.
Now seven years sober, Smith-Arnold said most addicts will use any drug they can find, any way they can think of. She admits, "If I was still, probably still on drugs ... I would be doing it if I could."
She said it's happening across all income levels, leaving injured pets suffering in silence.
Only 17 states mandate that veterinarians report animal abuse to the authorities. Texas is not one of them.
Texas Veterinary Medical Association's Survey Results - Utilization of Controlled Drugs by Veterinarians
---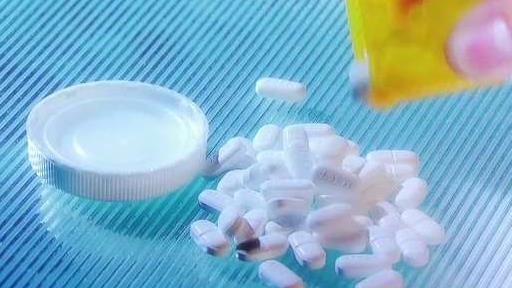 The Texas Veterinary Medical Association (TVMA) has conducted a survey of licensed Doctors of Veterinary Medicine concerning their use of Controlled Substances. Of the 7,015 licensed Texas veterinarians, the survey was completed by 1,010. This data can be used with 99 percent confidence with a margin of error of + or – 3.75 percent to accurately estimate controlled substance use in the overall population of licensed DVMs in Texas.

•76 percent of Texas DVMs do not administer, dispense and/or prescribe Schedule II Controlled Substances.

•The most commonly used Schedule III drug is Ketamine with 88 percent of respondents reporting administration only, 10.5 percent don't administer, dispense or prescribe this drug.

•Over 90 percent of respondents do not administer, dispense or prescribe Oxycodone, Meperidine, Methadone, Methaphenidate, Amphetamine or Methamphetamine.

•Less than 2 percent of respondents administer, dispense and/or prescribe Oxycodone (Oxycontin).

•The most commonly dispensed or prescribed Schedule II drug is Hydrocodone at 28 percent and 32 percent respectively. The most common use of this medication in veterinary medicine is as a cough suppressant.

•49 percent of respondents never prescribe Schedule II controlled substances, with only 20 percent reporting prescribing more frequently than every 3 months.

•55 percent of respondents never dispense Schedule II controlled substances, with only 20 percent reporting dispensing more frequently than every 3 months.

•The most commonly dispensed Class III-V controlled substances are Tramadol, Buprenorphine, Phenobarbital and Butorphanol, with 40 percent reporting dispensing only monthly to not at all. 50 percent of respondents reported that when they dispensed these classes of controlled substances Tramadol was the most common.

•The most commonly prescribed Class III-V controlled substances were Phenobarbital, Tramadol and Alprazolam, respectively.

•Most common uses of the following Controlled Substances in veterinary medicine
-Hydrocodone – Cough suppressant
-Phenobarbital – Seizure control
-Alprazolam – anxiety and behavior
-Tramadol – pain management

Full survey results will be provided to legislators upon request.

---