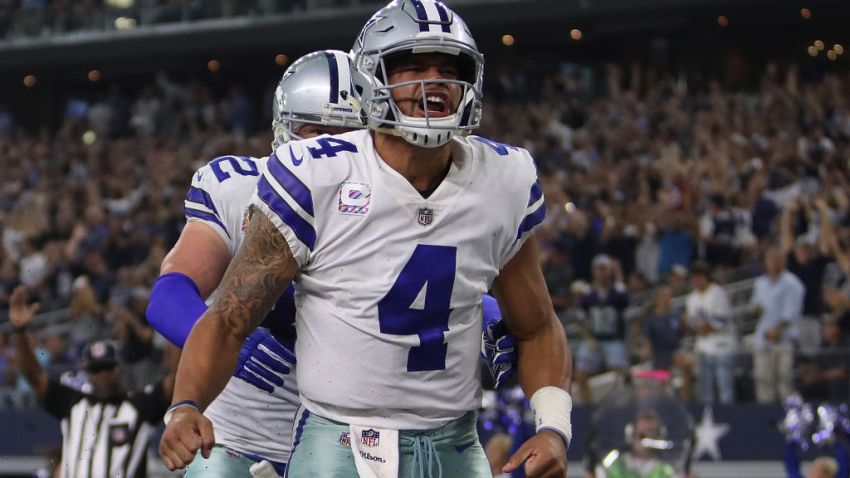 Jason Garrett: He is 2-1 with both wins coming as the road team. The Cowboys rallied from a 14-0 deficit to win 24-17 last season behind 138 yards from Ezekiel Elliott. The 2011 win was among the most dramatic in Garrett's tenure. Tony Romo played through a cracked rib and a punctured lung to throw a 77-yard pass to Jesse Holley in overtime, setting up the game-winning field goal in a 27-24 win.
Key Matchup: Whenever a team starts a rookie quarterback like C.J. Beathard, they tend to lean on their running game even more to take the pressure off the youngster. Coach Kyle Shanahan has been around long enough that we can expect him to do the same. Carlos Hyde is averaging 4.2 yards per carry, and is the kind of power runner and slasher who could succeed against a Dallas defense that has yielded consecutive 100-yard rushers and three in five games. The 49ers will test that run defense early, the Cowboys must be ready.
X Factor: You've got to think the Cowboys, Ezekiel Elliott and the entire organization received a huge emotional boost with word that Elliott would be available for the next two weeks. If they can get a couple of victories, trying to make the playoffs at 4-3 with Elliott missing six games, is easier task than trying to do it at 2-3. That's why this is as much of a must-win game as a team can have before Halloween. A fourth loss before the end of October would put the Cowboys' playoff hopes in real jeopardy.
Local
The latest news from around North Texas.
Key Stat: San Francisco is tied for the league lead with 14 10-play drives. Dallas tied for 19th with 9. Last year, Dallas tied 4th in the NFL 34. Cowboys can't let them control the ball and the game, or San Francisco will come away with its first win.
Cowboys Game Plan: San Francisco has been outscored by 18 points in the first quarter, while Dallas has outscored its opponents by 38 points - 3rd best in the league behind New England and Atlanta. Cowboys want to get off to a good start like they have last two weeks when they've blown leads of 17 and 11 at home. The worst thing possible is to give a bad team hope and belief by letting them get off to a good start.