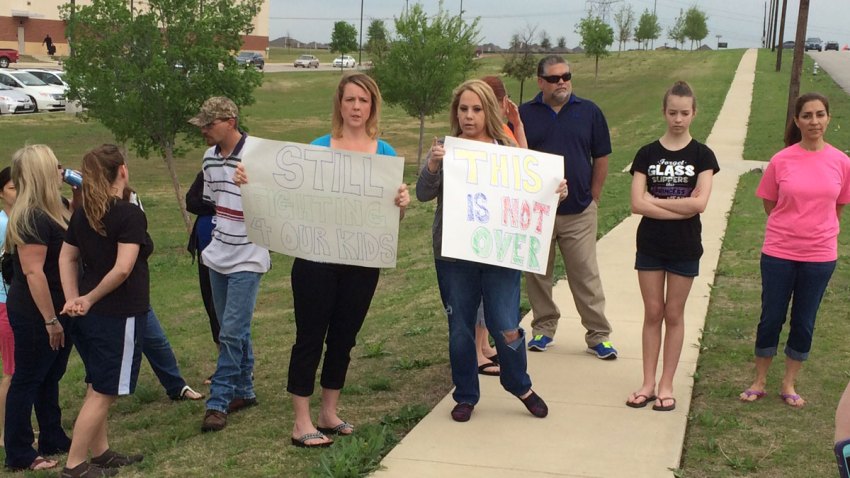 A dozen parents protested outside Tidwell Middle School on Friday morning, angry at the school district's decision to allow an eighth grade boy who wrote a violent online story to remain in class.
Parents disagree with the Northwest ISD's decision to allow this eight grader to stay in school. That decision became official on Monday, when the Tarrant County District Attorney's Office ruled that the online blog was protected by the First Amendment.
But some parents argue a student's free speech protections stop within a middle school's walls once other students feel unsafe and in danger.
Local
The latest news from around North Texas.
At the protest parents held up signs saying things like 'This Is Not Over' and 'Still Fighting for Our Kids'.
This all started when an eighth grade boy wrote a blog where he names more than a dozen classmates and describes in horrifying and graphic detail how he maims, murders and sexually assaults them.
"I'm in disbelief. I can't even believe it," said parent Cindy Copeland, who has kept her 6th grade daughter out of school for eight school days over safety concerns.
The school district — and that boy's family — said the writing was a horror fiction story, not a real threat.
But some Tidwell parents point to the fact that the boy chose to post his story online so his classmates would read it as an example of cyberbullying.
"The description of what he will do to these peers and classmates, it's despicable. It's not therapeutic writing. And if it was? Then it should have been kept private, not broadcast for the entire world to see," said Copeland. "It's a threat."
Many parents said their children still feel scared and are having trouble focusing in school.
"The fact that I have to have those kinds of conversations with my children on how to my protect themselves against harm from another classmate, it's very disheartening as a parent," said Angela Dean.
"It's sad that the school is not stepping up to provide what they are required to provide, a safe learning environment," she said.
The Tarrant County District Attorney this week decided that no charges would be filed against the student for writing the blog. In a statement, the District Attorney said, in part, "Although the blog in question contains many disturbing, graphic, and offensive descriptions of violence, it does not meet the legal requirements for a charge of criminal or delinquent conduct under Texas law"
Parents said they're going to have a massive presence at the next Northwest ISD school board meeting later this month.
They want the school to revisit their cyberbullying policies over summer.
In a statement released Friday morning, Northwest ISD spokeswoman Emily Conklin said the blog was created while the child was not a student in the district and was published on a private website viewable by invitation only. She added that the Tarrant County District Attorney's Office did not classify the writing as a crime and that the district is following the recommendation of the law.
Conklin added that day-to-day instruction at the school has not been impacted and that the only disturbance occurring is taking place outside of the building.