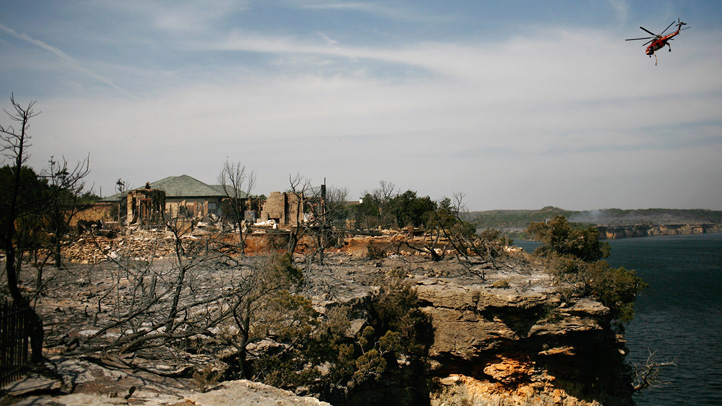 Help is finally on the way for 45 Texas counties -- but not two North Texas counties.
After months of repeated criticism and appeals from state officials, President Barack Obama approved a request for a disaster declaration for portions of Texas ravaged by wildfires.
The request will help 45 counties where wildfires burned homes, land and trees. The counties include: Andrews, Archer, Armstrong, Bailey, Baylor, Brewster, Callahan, Carson, Castro, Clay, Coleman, Concho, Cottle, Crockett, Dawson, Duval, Eastland, Garza, Glasscock, Hall, Hemphill, Hockley, Irion, Kent, King, Lynn, Martin, Mason, Mitchell, Moore, Motley, Pecos, Presidio, Scurry, Stephens, Sterling, Sutton, Terrell, Terry, Throckmorton, Tom Green, Trinity, Tyler, Val Verde and Young counties.
Local
The latest news from around North Texas.
But Palo Pinto and Jack counties, just west of Fort Worth, won't get any help.
Wildfires burned dozens of homes near Possum Kingdom, but the federal help won't include the dozens of volunteer fire departments that helped control those blazes.
Residents said they feel snubbed.
"I don't know why it's not," said Dianne Johnson, who lives in Palo Pinto County. "It's about the same kind of fire that every other county had, right?"
Gov. Rick Perry released a statement after the word came down from Washington.
"President Obama's decision to finally approve a portion of our disaster designation request is good for Texas and some of the communities impacted by this season's wildfires," the statement said. "We will continue to work with FEMA to ensure all affected jurisdictions and entities receive the support they deserve after battling these massive fires since December. Our prayers continue to go out to those putting their lives on the line fighting these fires, as well as those whose property and livelihoods remain in danger."
When asked why Jack and Palo Pinto counties were left out, FEMA spokeswoman Jacqueline Chandler said the review process is "ongoing."
"There's always an opportunity to look at the other counties included in the appeal," she said. "Additional declarations can come later."
The federal funds will help local fire department recoup costs of fighting the fire. The funds do not help residents whose homes were damaged by the fire.