There hasn't been an easy day in the short life of 3-year-old D'ashon Morris. On the day NBC 5 met both he and his twin sister, D'asia, he had just completed two hours of visual stimulation therapy. His adoptive mother, Linda Badawo, a trained pediatric nurse, said D'ashon wasn't like this when she first brought him home as a foster child in 2015.
Back then doctors were far more concerned with his sister D'asia, who will likely never walk or talk. She has spina bifida.
Despite being born three months early, with both cocaine and marijuana in his system, doctors predicted D'ashon would grow to be a "normal" child by the time he was in kindergarten.
Superior HealthPlan, who insures Texas children in foster care, covered one nurse, 24 hours a day for D'asia, and another nurse 17 hours a day for D'ashon.
While D'ashon relied on tubes to help him breathe and eat, Linda said none of it affected his personality.
"He was just so happy. Oh my gosh, D'ashon was just so happy! You ask all the caregivers, all the therapies -- you walk in this house, D'ashon is a light! D'ashon was extremely active like he can play all day, he can scream all day, he can jump all day-- he was just that active, and then he started pulling his trach out," she said.
When asked what happens after he pulls the trach, Badawo responded, "he will turn blue."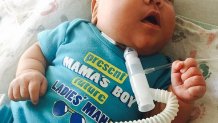 His doctors, nurses and child welfare workers started documenting the difficulty in responding to the pulled trach. His medical records read: the baby "is requiring tracheal suctioning on average 2-7 times per hour."
Local
The latest news from around North Texas.
There are numerous entries like this one: "D'ashon pulled out his trach. The nurse stopped his sisters lung treatment and changed his trach. Very stressful doing so many things at a time."
It was around this time Linda asked Superior HealthPlan for separate nurses for her twins, 24 hours a day.
Badawo's physician then wrote the insurance company a letter. Superior HealthPlan responded with their own, telling Linda around the clock care was not medically necessary.
They also informed her they intended to cut coverage: one nurse for both kids.
Linda, along with multiple caregivers, filed an appeal. According to The Dallas Morning News, "Superior did what state records show it almost always does: it refused to change its decision."
Linda refused to give up. She asked for a fair hearing with the Texas Health and Human Services Commission. There is an audio recording from the phone call.
Dr. William Brendle Glomb, with Superior HealthPlan, can be heard saying, "I sometimes wonder whether these letters say what you think they say. None of the letters of medical necessity, per se, were indeed letters of medical necessity."
Three years ago, Glomb was the top medical official at the State Health Commission. The month he left the job he took a senior position at Superior HealthPlan and often defends the company from patient appeals.
"I want to make sure that D'ashon has all of the nursing that he and his sister need so their needs are covered. Obviously we disagree that that's 24/7, 365 for both of them, but maybe we can come up with something together that is going to ... cover the hours that need to be covered," Glomb said.
The proposed compromise was a soft splint to restrain D'ashon's arms. Linda refused, fearing it would set him back developmentally.
When the twins were 14-months-old, she took a long-planned trip home to Nigeria to see her family. Following protocol, the twins were placed in separate foster homes.
This call was placed during the hours D'ashon wasn't approved to have a nurse watching him.
Dispatcher: "911, what is your emergency?"
Caregiver: "The baby is coding!"
Dispatcher: "Is he breathing?"
Caregiver: "I don't know yet"
Dispatcher: "Ma'am i need you to listen to me"
Caregiver: "Oh Jesus"
In the background of the call, you can hear the foster family performing CPR. During the 11 minute call you can also hear D'ashons heart rate monitor. It eventually stops.
It took 40 minutes of CPR before D'ashon was revived. Linda learned what happened via text and immediately flew home.
"I couldn't believe it. It was hard, really hard. I put in so much work into D'ashon," Badawo said.
When she saw him, he couldn't move. Doctors told her D'ashon was brain dead. That he would be attached to machines for the rest of his life. He now requires dozens of drugs just to keep him stable.
"I think I've accepted the fact that it happened, but one thing I cannot settle for, or accept, is it supposed to happen it was meant to happen?" Badawo said.

Two weeks after D'ashon stopped breathing, Superior HealthPlan agreed to give D'ashon round the clock nursing. As of last year, the company is in charge of tens of thousands of more kids. Texas signed a contract paying them $440 million per year.
Linda said kids like D'ashon are paying the real price.
"They took D'ashons life - basically they took his life - because this is a boy that would've grown to a young man, married, have children, worked, live his life. All of that has been taken away," Badawo said.
Superior HealthPlan declined multiple invitations to respond to this story. In particular, NBC 5 asked to speak to Glomb. Instead we received this statement:
"We are deeply saddened by this child's situation and the health issues facing many vulnerable children in our state. Superior is prohibited by law from acknowledging or discussing the details of any specific cases, however we work closely with the State to address the health care needs of the many Texans we serve, and our policies on fair hearings are regularly reviewed and audited by the independent National Committee for Quality Assurance. We believe our strong track record is supported by independent assessments of clinical quality and member satisfaction, which find us to be the top rated Medicaid plan in Texas in the most recent NCQA ratings."
How much did the company save by cutting D'ashon's care? The Dallas Morning News estimates up to $500 a day.
D'ashon's health care needs are no longer covered by Superior HealthPlan. Linda told us she feared no one would adopt the twins from her foster home- so she adopted them herself. That means their bills are now paid for by traditional Medicaid.
This investigation is just one part in The Dallas Morning News five part series -- read more here.

D'ashon Morris' Medical Records
DV.load("https://www.documentcloud.org/documents/4493796-Dashon-Morris-Medicalrecords.js", { width: 620, height: 800, sidebar: false, container: "#DV-viewer-4493796-Dashon-Morris-Medicalrecords" });
Dashon Morris Medicalrecords (PDF)
Dashon Morris Medicalrecords (Text)