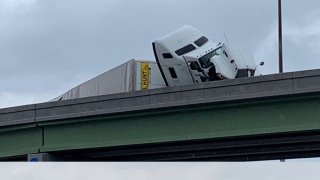 An 18-wheeler carrying Pine-Sol has overturned on Texas State Highway 114 over Highway 183.
According to the Irving Police Department, the eastbound lanes of SH 114 will be shut down for several hours while crews work to remove debris from the road.
The crash is east of Dallas-Fort Worth International Airport, between Loop 12 Walton Walker and 183. The back up extends to Rochelle Boulevard.
Irving police said the crash caused minor injuries.
Photos: Overturned 18-Wheeler Carrying Pine-Sol Delays Traffic