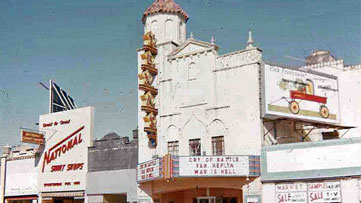 The Texas Theatre recently put the face of its history on a T-shirt. Literally.
Local
The latest news from around North Texas.
The countenance, or mug shot, of Lee Harvey Oswald adorns, or besmirches, the shirt sold at the theater.
There are business owners out there who just wish they had an image this powerful on which to leverage their marketing.
According to a story published at Yahoo, some people find the shirt exploitative of a tragic day in Dallas' history and, therefore, in bad taste. Defenders say, yes, it's part of history and, therefore, you can't ignore it just because it's unpleasant. Deal with it. And, oh, by the way, brilliant stroke of marketing.
According to the article, Jason Reimer — part of Aviation Cinemas, which operates the theater — doesn't try to sugarcoat the building's past, and why should he?
Besides, he's not really doing anything that hasn't already been done. At one point, the theater boasted a single black chair to indicate the spot where Oswald sat when spotted by police.
Reimer, as quoted in the article, said they sold out of the first shipment within five hours. History might be ugly, but ugly history sells.
---
Bruce Felps owns and operates East Dallas Times, an online community news outlet serving the White Rock Lake area. He still thinks Oswald was set up.

Copyright FREEL - NBC Local Media