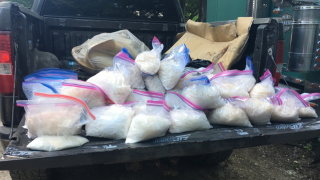 Dallas police seized more than 100 pounds of methamphetamine on Thursday morning.
Narcotics officers performed a traffic stop on a local narcotics suspect, where they found about 2.2 lbs. of meth.
After the traffic stop, officers got a search warrant for a residence possibly associated with the individual located on the 4500 Block of Humphrey Avenue, where they found another 100-plus pounds of meth.
The individual was taken into custody.