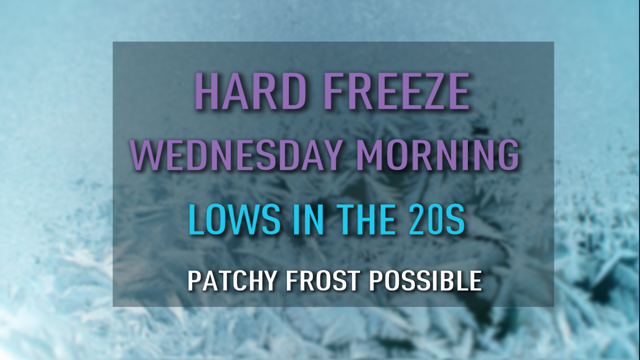 S Band Radar & Maps | Forecast | Weather Alerts
Traffic | Send Us a Photo/Video | Live Cams
The coldest portion of this winter-like weather will be Wednesday morning.
It will be a hard freeze for North Texas and the coldest one of the season so far with lows in the 20s area-wide.
Local
The latest news from around North Texas.
These are typically temperatures we see in January. Winds will be light, so wind chills will be near actual temperatures. Some patchy frost will be possible.
Looking back to last weekend, Saturday morning was the coldest morning so far this season at DFW. The arctic blast brought DFW its earliest freeze since 1993.
Hang in there! There is a gradual warmup ahead. Temperatures are going to rise to the 60s by Friday, heading into the weekend. Thanksgiving week looks mostly cloudy. Monday and Tuesday will be dry, but rain chances go up after that.
Cold weather also puts an extra strain on the heart. People with heart disease or high blood pressure should seek a doctor's advice when working in the cold.

Dress in layers, be aware of the wind chill factor, remove any wet clothing as soon as possible and limit time outdoors. MedStar said don't ignore shivering. Persistent shivering is a signal to return indoors.

Get the latest forecast information from NBC 5's team of Weather Experts here.

[[273173921,C]]