A pedestrian was critically injured Wednesday afternoon when scaffolding collapsed outside of a building in downtown Fort Worth.
The woman was walking along West 2nd Street, between Throckmorton and Houston streets when the scaffolding collapsed outside a building undergoing renovations.
The woman was hospitalized in critical condition and two other construction workers were treated and released at the scene, according to MedStar.
Video and photographs obtained by NBC 5 show a construction worker, who was tethered to the building, holding on to a ledge from six stories above ground. The man was able to eventually pull himself onto a nearby ladder and was not injured.
Mark Bates, who works in a nearby building, described the sound when the scaffolding collapsed.
Local
The latest news from around North Texas.
"It was something like a thunderstorm hit," he said. "It was pretty loud and wild."
A visitor from Austin, John Southerland, said it was like watching a movie.
"I heard this huge explosion, boom," he said. "It sounded like a bomb went off."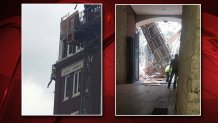 Both men said the worker was connected to a harness and hung on the side of the building for several minutes before finding the strength to pull himself up to safety.
"It was the wildest thing I've ever seen," Bates said.
Federal investigators from the Occupational Health and Safety Administration, or OSHA, were on the scene Monday afternoon.
City permits indicate the construction company doing work at the building, Sundance West, was Whiting-Turner Contracting Company. A person who answered the phone at the company's Plano office declined to comment and hung up.