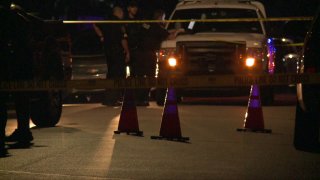 One person is dead and two others were injured in a shooting in Fort Worth Sunday night.
Fort Worth police say it happened around 8 p.m. in the 3300 block of Galemeadow Drive.
Police say officers arrived to find three gunshot victims. Two were transported to a local hospital in serious but stable condition, another victim was pronounced dead at the hospital.
Police say it appears the shooting stemmed from a domestic dispute, between two families.
Homicide detectives continue to investigate the circumstances surrounding the shooting.