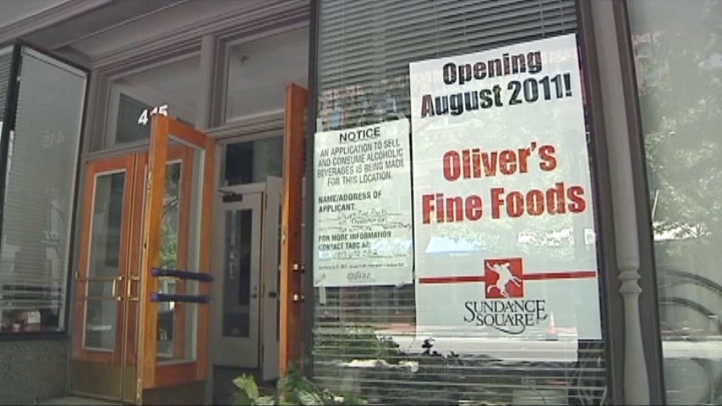 It is one of the few amenities you won't find in Fort Worth's Sundance Square -- a grocery store. Sundance Square and the greater downtown area continues to be a popular place for people to live and the number one request by residents is about to be answered.
Oliver's Fine Foods will take over part of the ground floor at Throckmorton and 4th Streets. The store was announced as a new tenant in January and could open as early as next month.
Residents are excited to hear that they won't have to drive a mile or two to get fresh groceries and those behind the store see it as a perfect fit.
Local
The latest news from around North Texas.
"We're going to an urban environment that has no grocer," said Todd Bush of Oliver's Fine Foods. "It's perfect for us, Sundance and all residents of downtown Fort Worth. It's great."
Bush says it was a mutual discovery between his urban market and Sundance Square officials. The only other Oliver's Fine Foods is in Mansfield, where there is a committed following of customers for breakfast, lunch and dinner.
The demand for such a grocery store has been one Sundance Square officials have heard for decades.
"The number one most requested use is a grocery," said Johnny Campbell, President and CEO of Sundance Square.
Campbell said Sundance has been looking for two years to put a grocery store in the Throckmorton and 4th location, but finding a perfect fit wasn't easy. Campbell believes Oliver's will work perfectly, because the store will bring what residents are looking for, grocery items to use in a few days and a bistro type of environment as well.
"We're hoping all the users downtown will support this," Campbell said. "And I'll tell you what we're hearing right now, with all the buzz, that's going to be the case."
Bush says he never intended to start up a chain of grocery stores, but that this was an opportunity they couldn't pass up.
"It's just an incredible opportunity for us and working with Sundance it's a great opportunity for them," Bush said.
And it's a big convenience for those living and working downtown as well. The open date hasn't been set just yet, but Campbell says right now it's "as soon as possible."