A man was shot and killed by Dallas police Monday in North Dallas after he attempted to rob two businesses and carjack a driver before running across a busy interstate with a "replica firearm," the police chief says.
Officers confronted the man after he ran across all lanes of Interstate 635 Monday afternoon and he displayed "what appeared to be a handgun," Dallas Chief of Police Eddie Garcia said Monday.
Garcia said three officers fired and struck the man at least twice. The man was taken to Texas Health Presbyterian Hospital Dallas where he was pronounced dead.
He was identified Tuesday night as 28-year-old Edgar Luis Tirado.
"It's a tragedy. Certainly, I can tell you it's a tragedy for our officers to have had to use lethal force on an individual that has a replica firearm," Garcia said during a news conference Tuesday afternoon. "Certainly when you have a replica firearm that you're pointing at a police officer after having committed multiple robberies, the expectation is there that if you point that, that something is going to happen."
During a news conference Tuesday afternoon, Garcia released an image of the replica firearm alongside a photo of a real .357 and noted the similarities including that .357 was written on both barrels.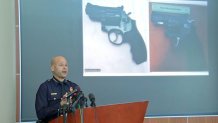 Of the replica gun, Garcia said it looked like the real thing to both officers and those who were robbed.
Local
The latest news from around North Texas.
"Unfortunately, it certainly looked real to the officers and it certainly looked real to the victims that this individual was victimizing throughout the day and how terrorized they were throughout that incident," Garcia said.
The incident started at about 4 p.m. as an attempted carjacking near a school on Rolling Hills Lane, Garcia said. The man fled when officers arrived, but police established a perimeter and it wasn't long before a second call came in for a robbery at a nearby CVS Pharmacy.
Garcia said the man fled the CVS and ran across the highway, where officers confronted and fatally shot him.
Unbeknownst to officers who responded to the carjacking, Garcia said an armed robbery was reported at a Fiesta supermarket in the area just before 4 p.m. with a suspect who matched the same description.
During the altercation, police asked drivers to avoid the eastbound service road of Interstate 635 between Coit and Hillcrest roads.
Garcia said no one else was injured in the shooting.
The incident is the second deadly police shooting in as many days, after officers in Fort Worth fatally shot an armed man after an attempted carjacking Sunday.