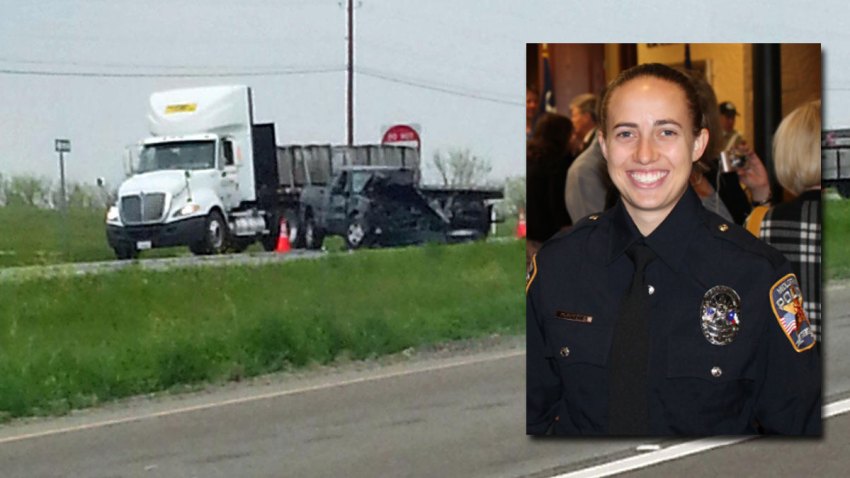 An off-duty Midlothian police officer seriously injured in a crash last week has died, the Midlothian Police Department said.
Officer Heather Phares, 22, was traveling along state Highway 287 Thursday when her truck crashed into the back of a tractor-trailer carrying a load of steel. She was the only occupant of the truck and was driving home after working a special assignment with a local school district, the department said Friday afternoon.
Phares, who had to be extricated from the damaged vehicle and flown by air ambulance to Parkland Memorial Hospital in Dallas, suffered traumatic head injuries in the crash.
The Midlothian Police Department said Phares died at about 9:45 a.m. Monday.
Local
The latest news from around North Texas.
According to the department, Phares grew up in Mansfield where she graduated from Mansfield Summit High School in 2009. She has been with the Midlothian Police Department for almost two years — she was hired at the age of 21 on Nov. 26, 2012 and graduated from the North Central Texas Council of Governments Regional Police Academy on April 12, 2013, the department said in a news release Monday.
Fellow recruits in Phares' class recognized her as energetic, naturally talented, and wise beyond her years. Course instructors found Phares' positive attitude and leadership qualities contagious, two traits that provided peer cohesiveness even in the most challenging circumstances, the department said Monday.
"There are many qualities in the foundation of character for a Texas Peace Officer. Officer Phares was recruited by the Midlothian Police Department for her integrity, sound judgment, enthusiasm, willingness to learn, and commitment to service. The Midlothian Police Department has lost one of our finest and there are no words to express our deep sadness," the department said.
The visitation for Officer Phares is Thursday from 6 p.m. to 8 p.m. at Midlothian First Baptist Church. Her funeral is on Friday at 1 p.m., also at Midlothian First Baptist Church.
An account has been set up at Wells Fargo to help alleviate the mounting medical bills for the Phares family. The account is titled "Officer Heather Phares Donation Fund." It has been established at the Midlothian Wells Fargo branch; however donations can be made at any Wells Fargo branch.