Strong thunderstorms packing powerful winds carved a trail of damage across North Texas Friday evening, causing widespread power outages and downing numerous trees down in southern Tarrant County.
Wind gusts of 70 to 90 mph were reported in the storms, with the most wind damage reported in Comanche, Erath, Johnson and Tarrant counties.
Oncor reported more than 25,000 customers without electricity early Saturday morning, down from their initial report of 52,000. Power companies across Texas reported that over 48,00 people across the state were without power.
Viewer Photos: Storm Damage on April 24, 2015
Travelers huddled in a storm shelter at Dallas Love Field as severe storms flights grounded. Dallas-Fort Worth International Airport also reported hundreds of flights delayed or canceled by the storms.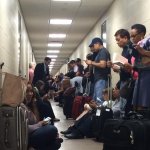 No tornadoes have been confirmed by the National Weather Service, but straight-line winds toppled trees and power lines in several communities.
Local
The latest news from around North Texas.
A large, mature tree was no match for the winds that hit Lipscomb Street in Fort Worth.
Haven Zametz said she was inside her house when the storm's winds began to howl, and she said her house began to shake as if it was in an earthquake.
She didn't realize it was because the tree fell on top of her home until her neighbor called.
Viewer Storm Photos - April 24, 2015
"My neighbor called and said, 'Are you OK?' And I said, 'Yeah, I'm fine.' And he said, 'No, a tree has fallen on your house!' So I walked out onto the porch and this is what I saw," said Zametz.
The tree smashed the roof of the front porch, but did not damage the home. No one was hurt.
Viewer Photos: After the Storms - April 24, 2015
Areas of flash flooding were also reported, with at least one water rescue from a vehicle in Irving.
The American Red Cross said the damage in the Metroplex appeared to be minor, and no shelters would be needed. Still, teams would remain on call to assist families in need.
The NBC 5 Weather Experts say Saturday will be sunny and warm, and a chance of thunderstorms returns to the forecast for Sunday afternoon and evening.
S Band Radar & Maps | Forecast | Weather Alerts
Traffic | Send Us a Photo/Video | Live Cams
NBC 5's Bianca Castro contributed to this report.