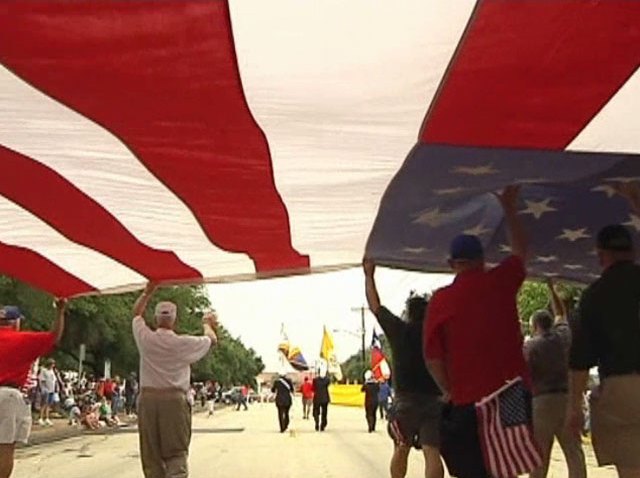 People lined the streets around the University of Texas at Arlington for the largest Independence Day parade in the metroplex. One group received a special honor.
"It's beautiful out here. It's not too hot. We're having so much fun!" Chay Snoddy, a parade watcher, said. "We come every year!"
The theme of this year's Arlington Independence Day parade was "America: Yesterday, Today, and Forever," and it was a sea of red, white, and blue. Even some people were blue, including one 3-year-old girl at her first parade.
Local
The latest news from around North Texas.
"All of a sudden, she burst into tears, and I said, 'Emily, what in the world is wrong?' She said, 'Mommy, I wanted to be in the parade,'" spectator Laurie Bianco said.
Aside from all the patriotic symbols, high school cheerleaders and bands, unicyclists, hula hoopers, and even Elvises on motorbikes, this year's parade honored the Boy Scouts of America, celebrating 100 years.
"Some scouts have actually helped in some wars, helped out in rescues," Boy Scout Daniel Culton said.
137 parade entries and some 50,000 onlookers make this one of the nation's biggest 4th of July parades.
"It's amazing," Meagin Gremillion, a Sam Houston High School student, said. "I mean, to see all these different people come out here to celebrate one thing. It's just outstanding."