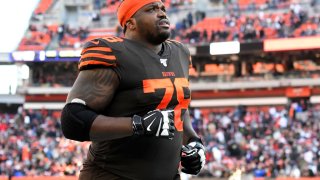 NFL offensive tackle Greg Robinson and another man were arrested after officials found close to 157 pounds of marijuana in their SUV at a Texas border checkpoint, records show.
Robinson, 27, and Jaquan Bray, 26, were booked Tuesday, according to El Paso County jail records. They both face a charge of possessing marijuana with intention to sell it, the jail log shows.
Robinson's home address is listed as Thibodaux, Louisiana, and Bray's is listed as La Grange, Georgia.
Robinson's arrest was first reported by TMZ.
Bray, Robinson and another passenger were stopped Monday by agents at the Sierra Blanca Checkpoint Station in Texas after a Border Patrol canine alerted its handler to their SUV, according to the criminal complaint.
During a search of the vehicle, officials found 156.9 pounds of marijuana packed into duffle bags, $3,100 in a pair of jeans that belonged to Bray, an electronic scale, and a can-sealer machine, which Robinson claimed, the complaint stated.
The other passenger, who met Robinson in 2018 while driving for Uber in Louisiana, told special agents that Robinson had asked them to drive Robinson and his friend from Los Angeles back to Louisiana, and offered to pay for travel expenses, according to a criminal complaint.
Local
The latest news from around North Texas.
When they reached El Paso, Robinson told Bray to start driving, officials said.
When they were stopped at the checkpoint, Robinson asked the passenger to claim the marijuana in exchange for money. The passenger said that they never would have driven Robinson if they had known drugs were in the vehicle, according to the complaint.
They face up to 20 years in federal prison if convicted.
Robinson, a former Auburn University standout, was drafted second overall in 2014, by the St. Louis Rams. He signed with the Cleveland Browns in 2018. The Browns recently informed Robinson's representatives they did not intend to re-sign him as a free agent.
Robinson battled inconsistency while starting 14 games last season for the Browns, who had a disappointing 6-10 season. He was benched for one game and missed another with a concussion.
NBC 5 and The Associated Press