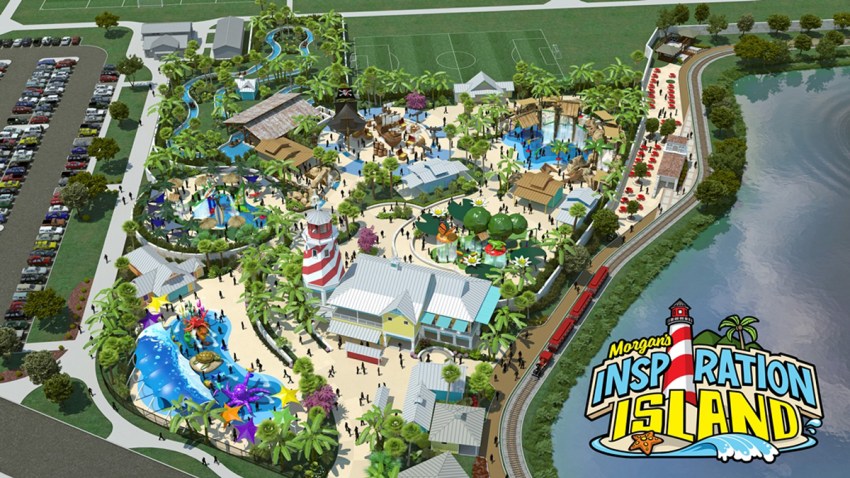 Judy Rhoads scanned her surroundings. She paused to look at her daughter, Cindy Dolder, who drenched her sun hat and striped shirt in a spray of water, and summed up the scene around her in one word.

"It's freedom," said Rhoads, 70. "I mean, look at her!"

The San Antonio Express-News reports Dolder, 40, grinned and shook her head as cool water trickled down her face, before she moved her wheelchair to another spigot in the water park.

Local
The latest news from around North Texas.
The mother and daughter had tried going to water and amusement parks before, but often the lists of restrictions are so long that Dolder, who has cerebral palsy and uses the wheelchair, can't participate.

"It's just impossible to get a wheelchair person on a ride," Rhoads said Sunday. "This is like a dream come true."

Morgan's Wonderland, the only large amusement park in the world designed for people with and without special needs, opened in San Antonio on April 10, 2010. Over the weekend, the park's founder, Gordon Hartman, opened a $17 million water park called Inspiration Island. In addition to tweaking its attractions for people with special needs, it provides specially designed wheelchairs -- including a cutting-edge type that's air-powered and waterproof.

More than 600 people attended Saturday's opening of Inspiration Island. Morgan's Wonderland, a nonprofit, has had more than 1 million visitors from at least 66 countries and all 50 states since its opening.

In many ways, the water park is like any other. Between its five sections, spigots of water burst from large sea horses and islands of tired-looking starfish. Two large buckets overhead slowly fill and then spill heaps of water. An eight-minute boat ride takes people through a jungle with fake snakes that hiss and cougars that roar.

There are some key differences. The grass is artificial in some areas so clippings don't get caught in the water filtration systems. The drainage is important because all the water is filtered and recirculated. There are no deep pools of water, only ones at surface level for splashing.

Before the buckets dump the water, a ding rings out across the park, notifying those who can't see that it is about to occur. Soon, Hartman said, a whirling signal will be up for those who can see but can't hear. There's also a pool with 92-degree water for people with muscular conditions who require warmth.

And everywhere, people of all abilities splash and play together. With the barriers that most people with special needs typically experience removed, suddenly everyone is the same -- or at least, similar in their difference.

"We're not a special needs park, we're a park of inclusion," Hartman said. "Every child, everybody in San Antonio ought to come to these parks. There's something that's different here, and it's a positive difference."

Hartman named the $35 million amusement park after his daughter, Morgan, who was born with disabilities. After he retired from his job as a land developer in 2005, he started the Gordon Hartman Family Foundation.

To accommodate people who use battery-powered wheelchairs, his organization collaborated with researchers at the University of Pittsburgh to design a substitute called the PneuChair that is still powered on its own -- without needing to be pushed around manually -- and can go in water.

The four wheelchairs run on compressed air and weigh about 80 pounds, compared with the typical 400 pounds for battery-operated chairs. These also come with bags and apparatuses to protect oxygen tanks, trachea tubes and ventilators, if needed. The four prototypes are the only ones of their kind, and Hartman said they expect to develop six more with further upgrades.

Hartman also is updating the amusement park's wristband technology, which already includes a chip that allows visitors to track each other. Come July, he hopes to have an iPhone application so attendees can keep track of each other on their phones instead of going to designated stations.

The growth doesn't stop there. By 2020, Hartman said, he plans to have two new facilities: A 30,000-square-foot building to replace the current temporary housing of The Academy, which provides life skills and job training on site and is at capacity, and a 70,000-square-foot building called the Socialization and Assistance Center, for those over 21 -- the age when state and federal funding for people with disabilities ceases.

Shaileen Rodriguez, 18, of Freer said Sunday that she wished that there were more places like these for her brother, Roman, who uses a wheelchair.

"There's not just people like my brother here, there's people like this everywhere," she said. "And there's a lot of kids that feel like they're segregated from everyone else because of who they are and what they were born with."

Tara Wilbanks agreed. Her family was in a car accident about a year ago, and her son Carter, 12, experienced severe body and brain injuries.

Wilbanks said she wished more people understood what it is like to be a person with special needs.

"When you have a healthy kid, you're removed from that world," she said. "But when you're going through it, it's just, so much."

Carter's recovery has been dramatic. Just a year ago, he was 66 pounds, nonverbal and dependent on a feeding tube. Now, he's in a wheelchair and is engaged in life, laughing and still hanging out with his best friend, Sisto Gonzalez, 11.

When Wilbanks asked her son if he would be getting better, Carter gave a thumbs-up. And then, slowly and deliberately, he struggled to say what he is working on: "Walking and talking."

From the sidelines, Hartman grinned. This is what he lives for. Even in building Morgan's Wonderland and Inspiration Island, he took great care in the design and symbolism in its construction.

There's the lone palm tree that he found on the land before the first park was built. In a symbolic show of inclusion, he took painstaking efforts to preserve it and build Morgan's Wonderland around it. The palm tree now sits near the entrance, a testament, to him, to inclusion.

There's also the recurring image of butterflies painted on the buildings -- and at the entrance to the park, there's a large sculpture of two hands reaching out, a butterfly just touching the tip of a finger.

"Many of our special needs guests are doing things they thought they couldn't do here," Hartman said. "They fly. They soar. Like a butterfly."
Copyright AP - Associated Press