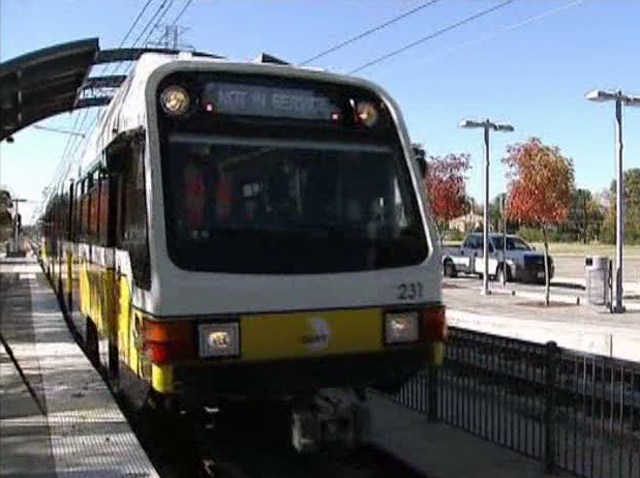 Fifteen new rail stations open on Dallas Area Rapid Transit's Green Line next month.
Neighbors near stations along the new DART Rail Green Line are anxious for the Dec. 6 opening.
Dallas City Council members toured four new stations on Tuesday.
Local
The latest news from around North Texas.
Station construction has already improved some blighted areas, including an old tire dump near the Lawnview Station.
"Before this was all cleaned out, it was really a mess, and now we're just really pleased," Councilwoman Linda Koop said. "This is a gorgeous place to be today."
But city leaders also expect to see new development spring up near the new stations.
Plans call for replacing dilapidated buildings beside the Hatcher Station with a mixed-use project.
"All of that is going to be demolished, and they are going to be doing retail at the bottom and townhouses at the top," Councilwoman Carolyn Davis said.
She hosted the tour of stations in her district with a test ride on one of the new DART Green Line trains.
"This is a start for change in this neighborhood with good transportation that I think is long overdue," Davis said.
The Belt Line Road Station on the northern side of the new Green Line in Carrollton is already adjacent to businesses and several new restaurants on the old downtown Carrollton square.
The square grew long ago beside railroad tracks. It went through serious decline over the years but has recently seen a strong revival.
Downtown Carrollton merchants say they are anxious for the arrival of DART passenger rail service.
Susan Myers runs Silver Star Merchantile, at gift shop on the square.
"We already have a spot made for the people that get off the train and want to have dinner before they go home, do a little shopping," she said.
Myers said Carrollton has prepared for the arrival of DART rail.
"We've planned right along with it, so our stores are up-to-date, our sidewalks are clean -- you know, we've done our housekeeping. And we embrace it," she said.
Scott Miller, who works at a printing shop on the square, is also anxious to see the Belt Line Road Station open.
He has been commuting to Carrollton on the congested Stemmons Freeway every day for seven years from Oak Cliff in Dallas.
"I'm very excited about it," he said. "It means I won't have to drive to work every day."
DART will offer a free preview of the Green Line for passengers on Saturday, Dec. 4 prior to the start of regular service at the new stations on Dec. 6.