The case of three Fort Worth girls who have been missing for nearly 50 years is getting all new attention.
Clear Channel has partnered with the Texas Center for the Missing and the National Center for Missing and Exploited Children to regenerate tips for the cold case of 17-year-old Rachel Trlica, 14-year-old Renee Wilson, and 9-year-old Julie Ann Moseley.
"It's been a big mystery for over 48 years," said Terry Moseley, Julie Ann's brother. "We're hoping these billboards open things up and maybe somebody will know something and speak up."
Starting Thursday, billboards across North Texas are broadcasting the age-progressed photos of the girls, who went missing on December 23, 1974. Clean Channel is providing the month-long public service campaign at no cost in recognition of National Missing Children's Day.
"This is great news to have this out here," said Janet Moseley, Julie's sister, as families gathered outside one of the billboards off I-35W. "To look at it and remember and think back, 'Was I there? What did I hear? Did someone tell me anything?"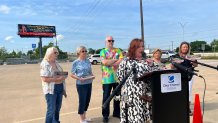 The girls were last seen at the Seminary South Shopping Center, now known as La Gran Plaza de Fort Worth. It's believed the girls had first gone to an army surplus store to buy jeans before heading to the mall.
Local
The latest news from around North Texas.
Terry lived across the street from Renee, who was close friends with Rachel. He was 15 years old and had been dating her at the time.
"It was two days before Christmas. They went shopping and they never came home," he recalls. "They wanted me to go, but I didn't go. And they wanted Janet to go and she didn't want to go. But my little sister, Julie – she's only 9 and begged her way into going and that was it. They drove away and we never saw them again."
Rachel's car was found in the parking lot. The gifts they bought that day were still inside but there were little to no clues.
"It looks like they disappeared off the face of the earth," said Terry.
The next day, the girls' families said they got a letter that was supposedly written by Rachel and addressed to her husband and high school sweetheart, Tommy. The postmarked letter claimed the trio had run off to Houston and would be back in a week. Investigators retrieved DNA on the letter but no match has ever been found.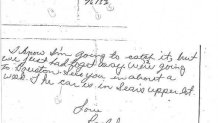 The family believes it was a red herring, meant to throw off the investigation.
"We're confident Rachel didn't write that letter," said Terry.
In the nearly 50 years since Christmases have never been the same. Thousands of leads have led to nothing. The family has created a Facebook group page to post updates and possible clues.
"I've been looking for these girls, my entire life," said Rusty Arnold, Rachel's brother. "I can't tell you how many holes we've dug, how many lakes we've searched."
Two cars that were removed from Benbrook Lake in 2018 and thought to be tied to the case were determined not to be connected.
All of the parents of the girls have passed away, except for Rachel and Rusty's mother.
"All the other parents have passed, without knowing the truth," Rusty said. "Let's put this to rest. It's time to put this behind us. We've been through this for almost 50 years now."
Clear Channel estimates the new billboards could put millions of fresh eyes on a problem that still happens today.
"It's important to realize there are so many who are missing and they need our help," said Teresa Moore with Clear Channel DFW.
The Texas Department of Public Safety Missing Persons Clearinghouse received 47,670 missing person reports in 2022, 34,828 of which were juveniles.
"We know that over 2,300 children go missing each and every day in the United States and that's far too many," said Officer Tracy Carter with Fort Worth Police.
The Fort Worth Police Department Cold Case Unit exists as part of the main Homicide Unit. One detective is assigned to the Cold Case Unit and investigates "cold" unsolved homicide cases on a full-time basis.
"If they have a lead, they're definitely going to research it and do whatever they can to bring that person home or bring closure to a family," Carter said. "Everything is a collective effort. Usually, if someone sees something, you just never know if someone's going to pass by a sign or billboard, or talk to somebody that may have some recollection of what possibly happened."
However, there are countless cases to pore through. Families rallied in Fort Worth a few weeks ago to raise awareness for 1,000 cold cases at Fort Worth police.
"Just to bring awareness to the fact that they need help, so hopefully anybody that says these billboards can help us," said Terry.
The families hope this could help the police find that one lead.
"I know there's somebody out there who knows what happened," said Arnold.
Information on the whereabouts of any or all of these women can be given to the Fort Worth Police Department at 817-335-4222.
If you have information on an unsolved case or need assistance in this area, please contact Detective Leah Wagner at 817-392-4307, Detective John Galloway at 817-392-4336, or Detective Jeff Bennett at 817-392-4308.
Information may also be provided to the unit by emailing coldcase@fortworthpd.com