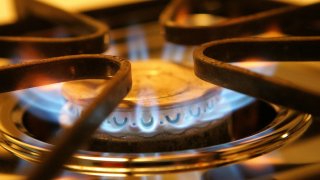 Dozens of emergency calls by North Texans reporting the smell of natural gas since Thursday night is being blamed on "over odorizing" of the gas lines.
Residents in southern Denton County were among the first to report the strong smell of natural gas Thursday night after smelling it in their homes.
Since that time, fire departments in Dallas, Frisco, Keller, Coppell, Southlake, Flower Mound, Richardson, and other parts of Denton County were all dispatched to calls of people smelling natural gas.
So far, no leaks have been detected and the cause of the smell has been attributed by Atmos Energy to excess mercaptan, a harmless foul-smelling gas that is added to natural gas. Because natural gas is odorless, the mercaptan, which smells like rotting eggs, is added so that leaks are quickly and easily detected by humans.
"If too much mercaptan is inadvertently added to the system, it causes a higher than normal concentration of the odor that is associated with a gas leak," according to Dallas Fire-Rescue. "The safety of the public, our employees and our system is our highest priority. We are investigating every odor call received since last night and will continue to do so as part of our vision to be the safest provider of natural gas services."
Atmos said they are working on the issue but did not provide a timeline on how long the odor would remain present.
If you think you smell gas, call the Atmos Energy emergency line at 1-866-322-8667, so that a highly trained technician can respond and investigate. Tips on learning to recognize a gas leak can be found here.