NASA has assigned the astronauts who will ride the first commercial capsules into orbit next year and bring human launches back to the U.S.
SpaceX and Boeing are shooting for a test flight of their capsules to the International Space Station by the end of this year or early next, with the first crews flying from Cape Canaveral, Florida, by next spring or summer.
The five astronauts assigned to the first flights gathered Friday at Johnson Space Center in Houston for the announcement.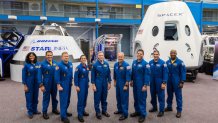 Boeing's first Starliner crew will include a former NASA astronaut who commanded the last shuttle flight in 2011, Chris Ferguson, who is now a Boeing employee. The four other commercial crew members are still with NASA.
U.S. astronauts now ride on Russian capsules to the space station.


Copyright AP - Associated Press