A 20-year-old woman is in custody for alleged drunken driving and causing a crash that left a moped driver dead early Monday morning in Dallas.
Illiane Quevedo Meza is accused of fleeing the scene. She is charged with suspicion of driving while intoxicated and failure to stop and render aid, online court records show.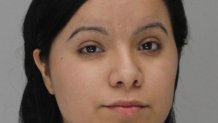 Police and fire crews responded at about 1:30 a.m. to the northbound lanes of N. Central Expressway near SMU Boulevard.
Police say Quevedo Meza was driving in the right lane behind the man on his moped when she struck him with her vehicle. He was knocked off the moped and fell to the ground in the right lane of traffic, police said. He was hit by another oncoming vehicle and that driver stopped to try to help, police said.
Quevedo Meza was stopped shortly by another officer, police said. The 2019 black Ford Fusion was found with damage to the front driver side of the vehicle.
No other information was currently available.