What to Know
Remains preliminarily identified as Christina Morris, a 23-year-old woman presumed dead since she disappeared Aug. 30, 2014.
The Collin County Medical Examiner's Office will confirm the person's identity and cause of death.
Field had been searched previously in Morris investigation; nearby cell tower pinged convicted kidnapper's phone after her disappearance.
Skeletal remains unearthed Wednesday in a field in Anna have been identified as Christina Morris, a 23-year-old woman presumed dead after being reported missing in August 2014.
Plano Chief of Police Gregory W. Rushin said during a news conference Thursday afternoon that the Collin County Medical Examiner's Office positively identified the remains as those of Christina Morris.
"We will continue to investigate this case and work with the Collin County District Attorney's Office in our continuing effort to seek justice for the family and loved ones of Christina Morris," Rushin said.
Until a positive identification is made by the Collin County Medical Examiner, we will have no more public comments on the human remains found yesterday in Anna, TX.

— Collin Co. Sheriff (@CollinCoSO) March 8, 2018
Earlier in the day Morris' mother, Jonni Hare (nee McElroy), placed flowers at the site where the remains were found. At a news conference Thursday afternoon Hare thanked both the police and the public for standing by her family as they continually searched for her daughter over the last three and a half years.
[[476308513,C]]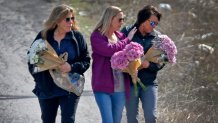 "I know our daughter is in a better place. I know she's in heaven. I know she's proud of us for not giving up," Hare said. "Please understand that we need to grieve. We need to heal. We need our time."
Officials took no questions at the news conference Thursday and offered no information about what may have caused Morris' death.
Along with Morris' family, volunteers who spent weekends helping search for Morris packed into the Plano Police Department to offer support.
"It was a day that I think a lot of us thought at this point wouldn't happen," said volunteer Stacey Blair. "It's very much a double-edged sword for all of us because, while we do want to find her, it took that little bit of hope away."
Local
The latest news from around North Texas.
Blair and others in the group said they still plan to get together from time to time to do "something good in Christina's name."
[[476311683, C]]
[[476319343, C]]
[[476335233, C]]

Morris was last being seen leaving The Shops at Legacy with friend Enrique Arochi on Aug. 30, 2014. Following Morris' disappearance, Arochi maintained that after he walked into the parking garage with Morris that the two separated and he never saw her again. Investigators later found Morris' DNA in Arochi's trunk; he was eventually sentenced to life in prison for her kidnapping.
Should Morris' cause of death be ruled a homicide, officials have not yet said what that may mean for Arochi.
After multiple police departments guarded the area overnight, investigators returned to the field Thursday to continue scouring the area for evidence.
The day before, officials could only confirm a crew clearing brush and doing excavation work in a field unearthed a partial skeleton along the 1800 block of Taylor Boulevard, about a mile east of U.S. Highway 75.

The field is less than a mile from a cell tower that pinged Arochi's phone the day after Morris disappeared, The Dallas Morning News reported; officials confirmed the area was searched at least once before during the investigation into Morris' disappearance.
Arochi, meanwhile, has maintained his innocence in the case and in a jailhouse interview with The Dallas Morning News (below) apologized to Morris' family for not being able to help more in the search for Christina. He urged anyone with information in her disappearace to come forward so that he could be freed and return to his family.

Vigil Held Thursday Night
Neighbors living in the Anna neighborhood near where Morris's remains were found organized a vigil Thursday night. It brought together dozens of strangers who've followed the search for Morris from afar with those who've given up every weekend for the last three and a half years to search for her.
"This is sad. This is heart wrenching. This is horrible. It's your worst nightmare, and you see someone going through all that pain. But it's tears of happiness because we brought her home. We found her. She's at peace," said Roxanne Salmon who was part of the search parties.
Together they joined in prayer for Christina and her family. While no family was present, friends shared a reminder that just because Christina has been found doesn't mean she'll be forgotten.
NBC 5's Diana Zoga and Allie Spillyards contributed to this report. Check back and refresh this page for the latest update. As this story is developing, elements may change.