A Denton mother is now facing a felony charge of injury to a child by omission related to the death of her 7-year-old son.
Officers arrested Sabrina Ho on Tuesday after interviewing her a second time following the death of her son Phoenix Ho.
Denton Police were called to a home in the 1600 block of E. McKinney Street on Friday, April 1 for an unconscious person. The caller stated that a child at the home was having a medical emergency. Paramedics transported the boy to a local hospital where he later died.
According to an arrest report, during an interview with detectives, Ho admitted she had been aware of the ongoing physical abuse of her son by her boyfriend Todd Shaw and that she had ample time over four weeks to remove them from the situation but never did.
Ho told police that she was in her bedroom at about 2 p.m. on April 1 when Shaw called for her to come into the hallway saying something was wrong with her son. She said the boy was on the ground and was having trouble breathing and that his eyes were rolled back in his head.
Five hours later Ho called 911. She told detectives that during that time she watched as her boyfriend "constructed a box to place over the victim's head to muffle the breathing as it became louder and louder."
Investigators said Ho admitted to keeping her son out of school and intentionally neglected to seek medical care for injuries to the child's head, eyes, face, shoulders, and penis to conceal the signs of abuse, and out of fear she would get into trouble.
Local
The latest news from around North Texas.
"Ms. Ho kept Phoenix out of school for several weeks to hide the abuse, didn't call 911 until it was too late, didn't take Phoenix to the doctor or an emergency room to not get in trouble," said Padgett. "I think she's in trouble now."
Phoenix was a second-grader in the Denton Independent School District.
The district's spokeswoman told NBC 5 they are all devastated by the loss and stress the district did everything possible required by law when their student did not attend school for several weeks.
"Tragedies such as this one touch our entire community. This death is a painful reminder of what we are all fighting to prevent during this April Child Abuse Awareness Month," police said in a statement.
According to a police statement, Shaw was arrested April 2 and charged with injury to a child. Ho is now facing a similar charge of injury to a child by omission. Both Shaw and Ho are being held in the Denton County Jail; he is being held on a bond of $1 million while she is being held on a bond of $500,000.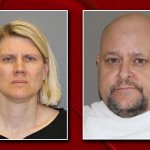 NBC 5 briefly spoke with a maintenance worker who said he did not see any signs of abuse or problems with the child or his mother.
Police confirm to NBC 5 Ho had primary custody of the child.
The boy's biological father 'is devastated by what happened, according to police. NBC 5 briefly spoke with the boy's father who declined to comment.
DENTON ISD STATEMENT ON THE DEATH OF PHOENIX HO
Denton ISD joins the Denton Police Department as we mourn the tragic loss of Phoenix Ho, a second-grader. District officials are in full cooperation with local law enforcement, who are currently conducting a thorough investigation. Members of our staff made multiple efforts to contact the family regarding Phoenix, including attendance calls, home visits and wellness checks. Additionally, reports concerning this family were made by our staff to the Department of Family and Protective Services as is required by law. Our educators remember Phoenix as, "a bright-eyed 7-year-old who was energetic, loved learning and coming to school." Phoenix's death is a painful reminder of what we are all fighting to prevent during this April Child Abuse Awareness Month. We encourage community members to contact an educator if they are ever in need of assistance.
'A TRAGEDY THAT COULD HAVE BEEN PREVENTED'
"We are horrified and saddened," said Molly Horn who is the spokesperson for Alliance for Children. "It's a tragedy that could have been prevented and it makes all of us just incredibly sad for this child and for any family members and friends who may be dealing with this tragedy today."
Horn also spoke about the importance of Child Abuse Prevention Month.
"It is a month where we at Children's Advocacy Center really focus on spreading the word about preventing abuse and we feel in this world, someday abuse can be eradicated. It's possible to have a future where one day no child is abused."
Alliance for Children is not directly involved in the case out of Denton County but advocates for children suffering abuse and works to protect children from abuse through teamed investigations, healing services, and community education.
Horn reminds the public that every adult in Texas is required to report situations where a child may be suffering abuse.
It is vital that adults be vigilant to signs of abuse and neglect, she says.
"Be an active listener and an active watcher, whether that's your own child or kids you know," said Horn. "Watch them and listen to them. Let them know that you are a protector, that you are a safe space, and that those kids can come to you. If they are scared, or if something has happened to them that they need to tell someone about, we want every child to know that they have adults in their life who can protect them."
It is possible that signs of abuse are hidden or hard to see, making it important to also notice any changes in behavior, she added.
"Maybe they are acting out sexually. Maybe they are acting out by hitting someone. Those are some signs that we see that maybe a child is being abused at home because now they are enacting that behavior on others," said Horn.
Police also urge the community: If you see something, say something.
"When you see that type of abuse, you have to report it just as basic human decency," said Padgett.
DENTON POLICE VOW: JUSTICE FOR PHOENIX
Padgett, who was accompanied by several investigators in this case during the press conference, said this when asked about how they feel when confronted with these kinds of crimes.
"We do see a lot of crime every day, but this is a child. A 7-year-old that couldn't defend themselves against adults. We want to be his voice," said Padgett.
Ho and Shaw are both charged with injury to a child.
The charges could change, however, when the medical examiner releases the boy's cause of death. Police said one possible new charge could be murder.
A spokesperson for child protective services said the agency had previous contact with the mother and child but could not go into details given privacy laws.
It's not clear if either Shaw or Ho have obtained attorneys.
AVAILABLE RESOURCES
If you feel that a child is in immediate danger, call 911.
Children's Advocacy Center for North Texas: 972-317-2818
Denton County Friends of the Family 24-Hour Crisis Hotline: 940-382-7273
You can make a report by calling 1-800-252-5400 or you can make a report online at www.txabusehotline.org