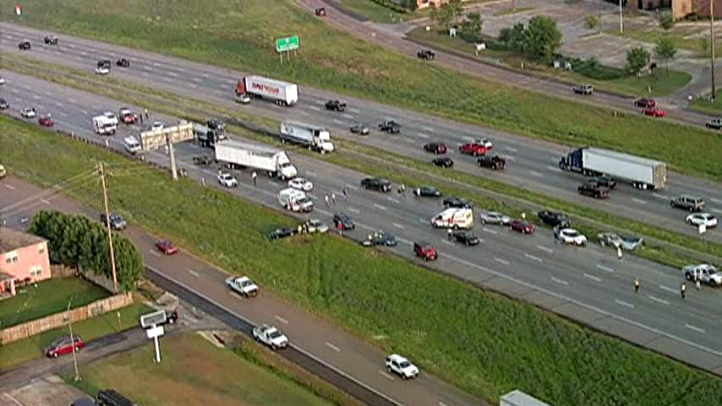 Dozens of vehicles were involved in a crash in Arlington on Tuesday night.
The wreck occurred at westbound Interstate 20 and Park Springs Boulevard at about 7 p.m.
Drivers said a series of chain-reaction crashes occurred when drivers suddenly slowed down. As many as 60 vehicles stretching for more than half a mile along I-20 were involved in the collisions.
Local
The latest news from around North Texas.
The crashes apparently began after the rain stopped, but drivers said slick roads were not responsible.
"The rain just stopped out of nowhere, and the sun came out," driver Joe Gentry said. "And when the sun came out, you couldn't see in front of you at all because of the reflection of the water and everything."
Drivers slammed on their brakes, causing a series of rear-end crashes.
"You couldn't see brake lights," Gentry said. "You couldn't see the back of the car. I didn't even know this happened at all."
His prized silver Camaro was hit, but he was not injured.
"This is my baby," he said. "I've had this thing since I was 15. My mom gave it to me. Never been in a wreck, never had a ticket, never had anything -- just a bad, bad time."
"The next thing I know, everybody's slowing up or stopping...," said Lonnie Mathis, who rear-ended someone.
His airbags deployed, but he was not injured.
"If they were there driving 50 or 60 miles [per hour], I promise, over 500 cars would have hit each other," said Hassan Khoshroo, whose Lexus was rear-ended by Mathis.
Khoshroo was also not injured.
Arlington police said the reported injuries were not life-threatening.

Arlington police and the fire department closed all westbound I-20 lanes at Cooper Street. Two lanes reopened at 9:45 p.m. to allow traffic to unwind. The remaining lanes reopened at about 10:40 p.m.