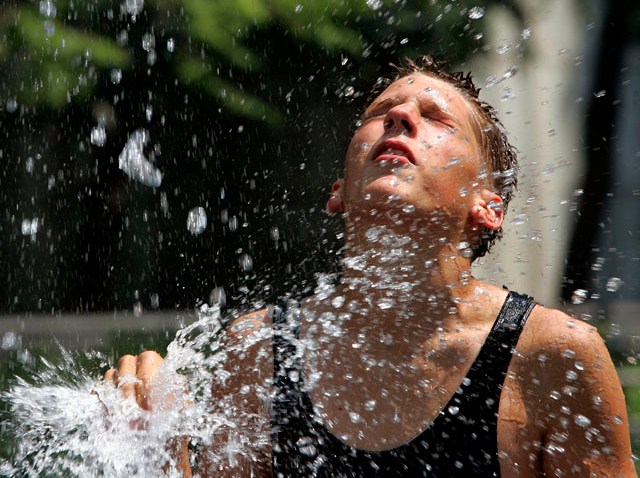 The calendar may say spring, but the temperatures say summer. This weekend, North Texas saw its first 100-degree day of 2010.
The temperature at the National Weather Service's official record-keeping station, Dallas-Fort Worth International Airport, hit 100-degrees just before 4 p.m. Saturday.
While temperatures this week will be in the upper 90s the issue is the heat index, which combines the temperature in the air with the relative humidity to tell you how hot it feels.
Local
The latest news from around North Texas.
On Monday, heat indices ranged from 100 to 105.
Don't look for relief when the sun goes down, temperatures overnight range from the upper 70s to the low 80s.
Rain fell on parts of North Texas Monday morning, and more showers and thunderstorms are possible mid-week which will cool temperatures down into the mid-90s (not that much of a relief right?).
Anyone who must be outside when the temperature is high is urged to take plenty of breaks and drink a lot of water.
Doctors at UT Southwestern said salt and sugar should also be part of your heat ritual. "Even if you're not sweating profusely, you're still loosing salt through your sweat, and so what happens is people become salt depleted," said Dr. Robert Dimeff, Director of Sports Medicine at UTSW.
If you don't have sports drinks handy there's a proven solution used by the World Health Organization and UNICEF.
The recipe to stay hydrated is simple:
1 tsp salt
8 tsp sugar
1 quart water
4 ounces orange juice (if you have it)
Doctors say cold fluids are best when the temperature is high. "If you can drink cold fluids, and obviously if it's a hundred degrees outside it's hard to keep the fluids cold, but that's helpful," said Dr. Dimeff.
The NWS also reminds everyone to never leave people or pets in vehicles, even if it's for a short period of time, because it can be fatal.
Article: NBC 5 Forecast
Gallery: Dog Days of Summer
Video: How to Stay Hydrated in Hot, Hot, Heat
Article: North Texans Search for Places to Stay Cool
Article: North Texas Records First 100-Degree Day
Article: Cars Overheat, Tires Fall Apart in Hot Weather
Video: North Texans Stay Cool
Video: Emergency Rooms Ready for Heat-Related Illnesses