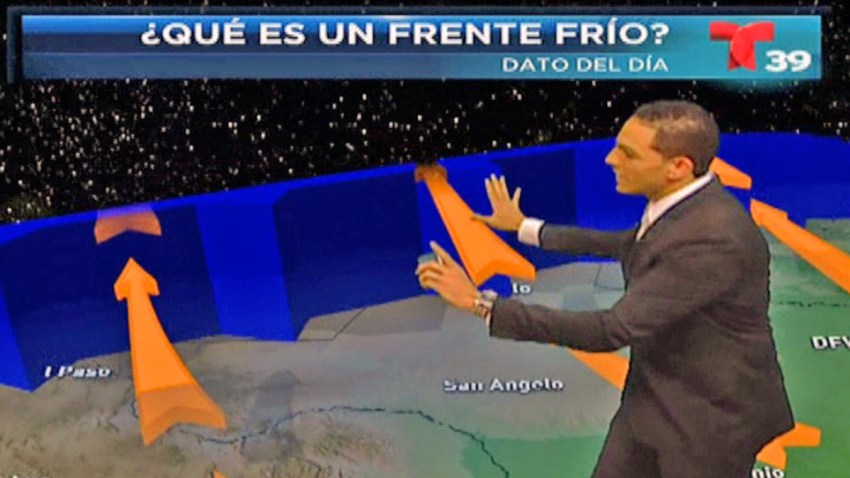 May 15, 2013 was a big test for new Telemundo 39 Chief Meteorologist Nestor Flecha. Severe weather hit North Texas a month after he arrived.
"We had 18 plus tornadoes in a five hour window," Flecha said. "You have know what's really happening - where is the hail? Where is the heavy rain? Where is the actual tornado?"

While NBC 5 Chief Meteorologist David Finfrock and Meteorologist Rick Mitchell covered severe storms nonstop on NBC 5, Meteorologist Nestor Flecha did the same on KXTX-TV Telemundo 39. Both stations are both owned and operated by NBCUniversal.
Flecha graduated with dual degrees in science. One in Theoretical Physics and the other in Atmospheric Science and Meteorology. He spent part of his undergraduate studies interning at the National Weather Service office in Fort Worth.
Local
The latest news from around North Texas.
"Being here and working in the same building where Mr. Finfrock works, it's very nice because I come here from a tropical environment," Flecha said. "Whenever I'm concerned about something or I'm not sure about something, I walk over to their studio and I ask them [about their forecasts]."
He grew up in a place better known for tropical storms than tornadoes.
"Puerto Rico is a very beautiful island in the Caribbean sea," said Flecha. "We are the actually only U.S. territory that actually speaks two official languages. We have Spanish and we have English."
According to DFW International Community Alliance, 22,000 Puerto Ricans call North Texas home.
At times, Flecha has explain his homeland to people unfamiliar with the island. It is part of the United States, not it's own country. It is 100 miles wide with 3000 foot tall mountains.
"[Sometimes people ask] are you able to see the sea or the ocean if you are in a place and you do a 360 degree loop?" Flecha said.
"And I'm like no - you're not going to be able to do that in any part of the island."
Flecha is not shy when bragging about Puerto Rican food. Adobo Cafe along Beltline Road in Irving was the perfect place to do it. One of the first dishes brought out was the staple "Mofongo."
"Basically it is mashed plantain, it contains garlic into it and some olive oil, a little bit of pepper into it," Flecha said. "And it tastes very, very good."
"The Puerto Rican bread it has some sort of sweetening to it so its a little bit of bread but its not too sweet like the Hawaiian bread."
Like the people of Puerto Rico, the food is a combination of African, Spanish and Indigenious people to the island.
"Most of the Caribbean food includes seafood because we're basically in the Caribbean Sea," Flecha said. "A lot of plantains which basically comes from portions of Africa. And we have the pork with was bring from Spain."
The food is just a part of a proud heritage.
"I'm very inspired by Roberto Clemente," Flecha said. Clemente was a major league baseball player from Puerto Rico. He died in 1972 in a plane crash while trying to deliver aid to earthquake victims in Nicaragua.
"He inspired me in the sense that… you must never forget where you come from and how many people do you actually help."
Flecha's job now helps keep part of North Texas' fast growing Hispanic population safe from the storm.
"What I like the most is that every single day that you're forecasting, you learn something new."