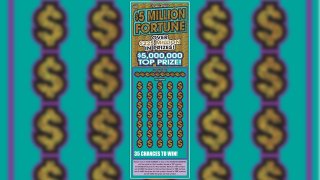 A North Texan in Mesquite won $5 million in a Texas Lottery scratch-off game.
The prize is the third of four top prizes in the $5 Million Fortune game and was purchased at the Kroger on Maple Avenue in Dallas.
One $5 million prize remains. Tickets for the game cost $50 each.
The Texas Lottery says $5 Million Fortune offers more than $225 million in total prizes. Overall odds of winning any prize in the game are one in 3.53, including break-even prizes.
The winner asked to remain anonymous.