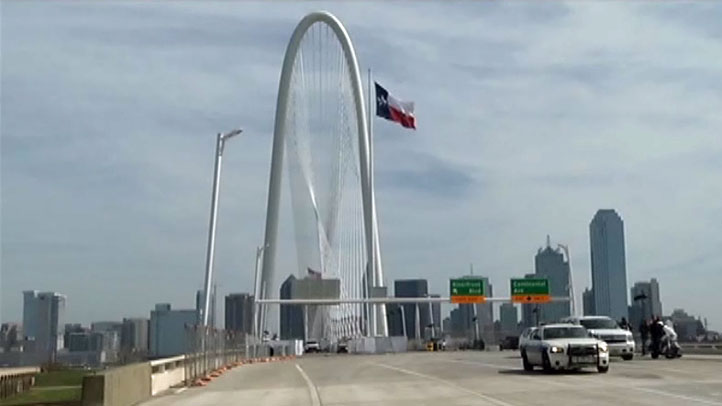 After many years of planning and construction, the new Margaret Hunt Hill Bridge over the Trinity River in Dallas opens Thursday.
Duane Milligan, Chief TX DOT Engineer on the project, said everything is on schedule for the first public traffic on the bridge.
The bridge and connecting ramps will open in four phases starting midday Thursday.

Workers will paint new lane stripes on the west side connection at Singleton Boulevard after rush hour Thursday and the first traffic will flow eastbound from there to the existing Woodall Rodgers Freeway and I-35E Stemmons Freeway downtown.
Local
The latest news from around North Texas.
Next, westbound Woodall Rodgers Freeway traffic will open to Beckley Avenue and Singleton Boulevard in West Dallas.
The third phase will be southbound I-35 connections to westbound Woodall Rodgers lanes across the bridge to Singleton and Beckley.
The fourth phase will be southbound traffic from Riverfront Boulevard to Singleton and Beckley.
Milligan said barricades must be moved and road stripes completed between each phase.
The opening work will be conducted in daylight hours between morning and afternoon rush hour periods Thursday and Friday.
All of the stages to be opened now will be finished by Friday evening rush hour.
Eastbound access from the new bridge to Riverfront Boulevard and westbound Woodall Rodgers Freeway traffic to Riverfront will open in a few weeks when concrete work is finished and signal lights are installed.
Some concrete work is also still underway on a connection from the bridge to northbound Stemmons Freeway at Continental Boulevard.