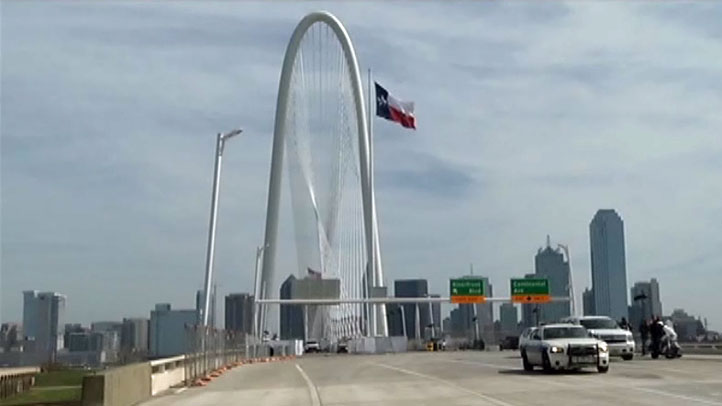 After years of watching cables, pillars and arches put into the place, Dallas is celebrating the Margaret Hunt Hill Bridge with a series of events this weekend.
The grand opening celebration, "Bridging The Trinity For The Love of The City," takes place March 2-4.
"The bridge is awesome," Ronnie Dunlap said. "It's awesome."
Local
The latest news from around North Texas.
About 3,000 people partied on the city's newest landmark on Friday, many snapping pictures.
"This is a once-in-a-lifetime opportunity to see something this spectacular," Chris Slaughter said.
It cost $200 per person to attend Friday night's bridge celebration party, which was headlined by a performance from Lyle Lovett and His Large Band. The party raised hundreds of thousands of dollars to help offset the cost of the weekend-long celebration of the bridge.
"We've been hearing everybody else tell their opinions of it, but if you're not here looking at it, you don't have any idea," Slaughter said.
The party was also filled with "bridge tunes," celebrity chefs and pedicab rides. Some party-goers even dressed in Calatrava-inspired architectural costumes.
Saturday morning the Eighth Annual Trinity River Levee Run will be followed by a free street fair featuring local bands, costumed performers, food and fireworks.
On Sunday, the public is invited to see the sun come up and attend a sunrise blessing and ribbon cutting.
Originally, this party was designed to kick-off the opening of the bridge, however construction delays have moved date traffic will start moving over the bridge to March 29.
More: MHHBridgeCelebration.com, Dallas City Hall: Margaret Hunt Hill Bridge Celebrations
NBC 5's Kevin Cokely contributed to this report.