A man, a pregnant woman and the woman's baby were killed in a crash in south Arlington on Saturday morning, police say.
The crash happened along the southbound frontage road of State Highway 360 just south of the Ragland Road exit at about 7:34 a.m., Arlington and Mansfield police said.
Police said investigators believe a driver pulled over to assist a second driver who was having a mechanical problem with their vehicle when an SUV rear-ended the second car, which caused a chain-reaction crash.
A man, identified by the Tarrant County Medical Examiner as 27-year-old Justin Dike, was trapped under the SUV and pronounced dead at the scene, police said.
Dike's mother said he was the father of the baby that died.
A woman, identified by the Tarrant County Medical Examiner as 28-year-old Alexius Mills, was transported to an area hospital, where doctors delivered her baby, police said. However, both Mills and the baby boy later died from their injuries.
"My sister was a very beautiful person inside and out," Mills' sister Leddy Harris said.
Local
The latest news from around North Texas.
She said her sister recently got her certified nursing assistant certificate and planned to continue her education.
"She worked as a CNA for many years but she finally went to school and got her certificate for that," Harris said. "Her ultimate goal after she had this baby was to get into nursing school."
Police said the suspected driver of the SUV, 31-year-old Adan Hermosillo Garcia, left the scene of the crash but was quickly located and arrested by Mansfield officers.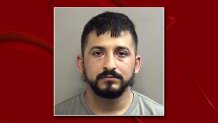 "I'm very angry that he left my sister in the street to die while he fled to try and get away from taking her life," Harris said. "He could have tried to save her."
Garcia faces three charges of intoxication manslaughter and three counts of failing to stop and render aid in an accident involving death, police said. He was transferred to the Tarrant County Jail later Sunday.
Because the crash occurred near the border of Grand Prairie, Arlington, and Mansfield, multiple agencies responded to the scene. Mansfield police are leading the investigation into the crash, while Arlington police are leading the investigation into the charges.