A man on the way to donate plasma was killed early Sunday when his vehicle was hit by a Chevrolet Camaro that had been racing another car in Pleasant Grove, Dallas police say.
At 5:11 a.m., Kendrick Lyons, 45, attempted to drive across South Masters Drive at Cushing Drive, but his car was struck by a black 2010 Camaro that was going south on Masters, police said.
The impact caused Lyons' Nissan Sentra to spin, striking the median curb, and ejecting him from the car. Lyons was thrown across three northbound lanes of Masters Drive and into a front yard, police said.
Lyons, who would have turned 46 on Tuesday, was pronounced dead at the scene.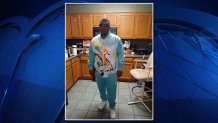 His Sentra continued to spin counterclockwise several more times and caught fire as it came to rest in the road, police said.
Lyons' family said he had celebrated his birthday Saturday night and was on his way to donate plasma when his car was hit Sunday morning.
Local
The latest news from around North Texas.
"He joked around a lot and always had a smile on his face," his cousin Jolynn Wright said. "He'd make you laugh."
The accident happened three blocks from Lyons' house.
Police said the driver of the black Camaro, 23-year-old Cesar Tirado, had been racing a gray 2016 Camaro driven by 27-year-old Alejandro Valdez at a high speed down South Masters Drive.
Tirado continued a short distance before he stopped on the curb. He was taken to a local hospital with serious internal injuries, police said.
Valdez hit a curb and a mailbox before his vehicle stopped. He stayed at the scene and turned himself in to officers.
Valdez was being held in the Dallas County Jail on Sunday afternoon. Both men face a charge of racing causing death.
The tragedy is just the latest fatal crash involving racers.
In December, off-duty Dallas police officer Joseph George died after he crashed his car into a tree near White Rock Lake.
And earlier this month, police said 20-year-old Crystian Hernandez died after he fell out the window of a truck doing donuts.
In Fort Worth, police said a group of hot rodders shut down traffic on busy Interstate 35W, peeled out and did donuts in the middle of the highway. Nobody was hurt but three men were arrested.
Lyons' family had a message for street racers.
"Cars are dangerous weapons," Wright said. "They need to stop. They need to find a road, a track. If you want to do something dangerous, do it to yourself."