Four people, including a juvenile, are in custody after a man was shot and killed during a robbery outside a Costco Business Center in North Dallas Tuesday night, Dallas police say.
NBC 5 has learned the man was loading items into his vehicle outside the warehouse at 8282 Park Lane at about 6:50 p.m. when police said he was approached by four people.
Dallas police said the group, identified in arrest affidavits as James Levels, Jacoby Bryce Tatum, Janiya Lashay Miller, along with an unnamed juvenile boy, "demanded property," and that during the robbery the juvenile shot the man once.
The victim, identified by the Dallas County Medical Examiner's Office Wednesday morning as 60-year-old Ali Elbanna, of Arlington, was taken to a nearby hospital by Dallas Fire-Rescue. Elbanna, police said, later died of his injuries.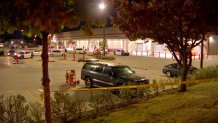 Dallas police said late Wednesday morning that the four fled the area after the shooting but were later located and taken into custody.
In the arresting documents, police said the three adults agreed to waive their rights and talk with detectives without an attorney. Police said each admitted to having committed at least two other robberies before the fatal shooting in the Costco parking lot and that Levels admitted that the gun used in the murder was his.
Local
The latest news from around North Texas.
One of those earlier robberies apparently helped police track down the suspects.
Prior to the robbery at Costco, police said the group committed another robbery where they stole two mobile phones at gunpoint. The victims were tracking their phones, flagged down a police officer, and provided the officer with a description of the four people -- three Black males and a Black female with a purple wig in a newer black Ford F-150 pickup with big tires. That description matched the description provided in the murder at Costco, police said.
The stolen phones were then tracked to NorthPark Mall where security cameras recorded a group matching the previous description.
The pickup, which turned out to be stolen, was soon after found abandoned in an apartment complex not far from the mall. Police then found and detained Janiya Miller, who they said was still in possession of the stolen phones.
Police then detained three other suspects wanted in connection with the shooting and robberies, including Levels who police said had in his possession the wallet belonging to the owner of the pickup truck.
The age of the unnamed juvenile involved in the murder has not been released and it's not clear what charges he'll face. As for Levels, Tatum, and Miller, arresting documents obtained by NBC 5 said they are all facing capital murder charges because they were all a party to Elbanna's murder and that they knew they were going to commit an aggravated robbery.
The investigation into the shooting and robberies is ongoing. Dallas police ask that anyone with information please contact Detective Jake Morgan via email: jake.morgan@dpd.ci.dallas.tx.us and to reference case number 208308-2021.
A Costco Business Center is not a traditional warehouse, but one that focuses more on the needs of customers who own businesses by offering items not sold at regular warehouse stores. There are 10 business centers nationwide, two in Texas including one in Dallas and one in Houston.
Check back and refresh this page for the latest update.