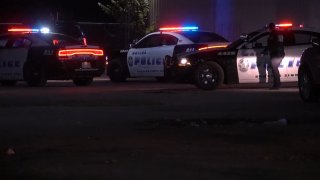 One man is dead and a suspected gunman faces a murder charge after a shooting at a Dallas carwash early Saturday morning, police say.
According to the Dallas Police Department, the incident occurred in the 8800 block of Lake June Road at approximately 4:18 a.m.
Police said when officers responded to the location, they found a male suffering from an apparent gunshot wound.
The victim, identified as 30-year-old Gregorio Romero, was pronounced dead at an area hospital, police said.
According to police, preliminary information suggests that a disturbance broke out at a car wash near the location of the shooting.
Police said shots were fired by a suspect who was possibly driving a black Corvette.
On Tuesday, police said they arrested Anzi Gomez, 27, and charged him with murder in connection to the shooting.