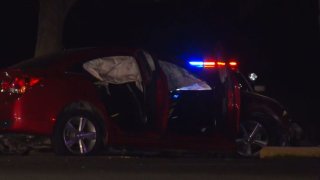 A man is in custody after crashing into two Dallas Police Department squad cars on Monday morning.
According to police, the incident occurred near 1400 Oates Drive at approximately 1:45 a.m.
Police said after the driver of the sedan crashed into the squad cars, a short chase ensued.
The pursuit ended near Ferguson Road and Samuel Boulevard, and the suspect was taken into custody, police said.
No officers were injured during the crash.