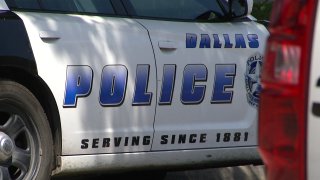 A 13-year-old boy is in stable condition after being injured in a shooting at a home in North Dallas Wednesday night.
Dallas Police said they were called to a shooting on the 8400 block of Ellery Drive at about 7:50 p.m. and arrived to find an injured child.
The boy was transported to the hospital in critical condition. On Thursday morning Dallas Police said the boy's condition had been changed to stable. Police did not release any other information about the boy's injuries, including where he was shot.
According to police, detectives identified 53-year-old Randy Edwards as the suspect in the shooting. An arrest warrant for Edwards' has been obtained for aggravated assault with a deadly weapon, though it's not immediately clear if Edwards is in custody.
Police said investigators believe the shooting was not random and that Edwards and the child know each other, though they did not elaborate on their relationship and they did not reveal a motive.
The investigation into the shooting is ongoing.
Check back and refresh this article for the latest update.