Update: The flooding along Ross Avenue was originally reported by authorities to be from a fire hydrant. On Thursday morning new information indicated it was a water main, not a fire hydrant.
A broken water main led to major flooding on Ross Avenue near US Highway 75 in Dallas.
NBC 5 crews were on the scene Wednesday night and witnessed thousands of gallons of water rushing through the street.
The Dallas Water Utilities Department initially said that the broken fire hydrant caused the flooding and that crews are on the way to the scene to make repairs.
On Thursday, officials said the initial assessment that the water was coming from a broken fire hydrant was incorrect and that the water was coming from a ruptured 36-inch water main.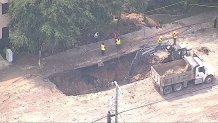 Dallas Water said Thursday afternoon that crews were "working around the clock to repair the pipe and clean up the site" and that they hoped to have it completed before dawn Friday.
Local
The latest news from around North Texas.
Wednesday night, a handful of drivers stalled their cars trying to drive through the gushing water. One man told our crew at the scene that he tried to cross on foot until he realized the water was waist-deep.
By 10:30 p.m. the water had visibly receded.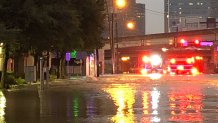 There have been no injuries reported and there is no word on any damage to nearby buildings.